Whew! 13-year-old lawsuit finally over, but it did smack our bottom line - Micron
Still, there's $4bn in quarterly revenues - DRAM, bam, thank you NAND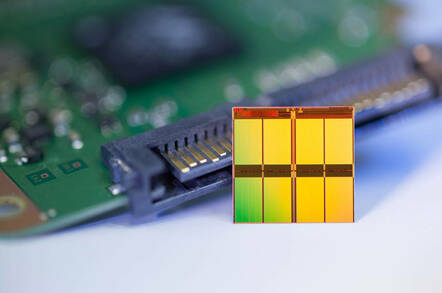 Micron's business is booming with first quarter 2014 revenues surging to $4.04bn.
The quarter finished in 28 November and its revenues were "42 per cent higher compared to the fourth quarter of fiscal 2013 and 120 per cent higher compared to the first quarter of fiscal 2013".
Net income wasn't anywhere near as impressive at first glance, being $358m. In the last 2013 quarter it was $1.7bn but it was much, much better than the year-ago quarter's $275m loss. It seems the firm is still feeling the costs of its lawsuit with Rambus - which took an agonisingly long 13 years to settle.
CFO Ron Foster said in the earnings call: "These results include the unanticipated costs of the Rambus settlement and debt restructuring. ... the results for the previous quarter included the $1.5bn non-operating gain recognized as part of the purchase accounting for the Elpida acquisition."
The chart shows rollercoasting revenue ascent: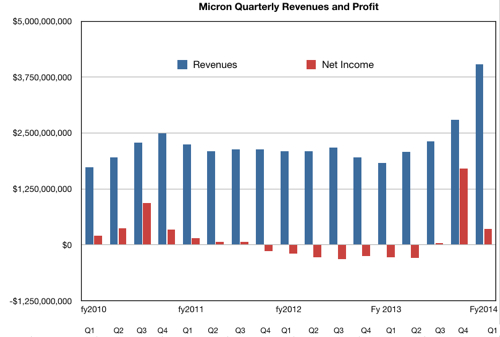 Micron results Q4 fy2014. Click chart to enlarge it.
So why the huge revenue jump? It was the Elpida effect, Micron having bought the bankrupt Japanese DRAM supplier last year. Revenues from DRAM product sales were 69 per cent up in the first quarter compared to preceding quarter. NAND flash sales were up just 8 per cent over the same period. Flash sales volume increased 11 per cent in fact but average selling prices went down and counteracted that.
According to Aaron Rakers, MD of Stifel Nicolaus, Micron is sampled 20nm MLC M500 DC enterprise client SSDs in this first fy2014 quarter, with a single tier 1 OEM qualification in place. It's expected transition to 16nm geometry will take place later on. Micron's PCIe P420m product uses 25nm flash and nothing was said about that moving to 20nm technology (and then on to 16nm tech) by Micron to analysts.
A landmark was reached, Micron president Mark Adams said: "Our overall NAND business surpassed the $1bn mark for the first time."
Micron expects to start production sample shipments of 3D NAND chips, possibly as early as April and probably before July. General production would happen in 2015's second half. ®
Sponsored: Detecting cyber attacks as a small to medium business