Apple asks judge to axe ebook price-fixing watchdog
Fruity firm begs court to punt Bromwich west..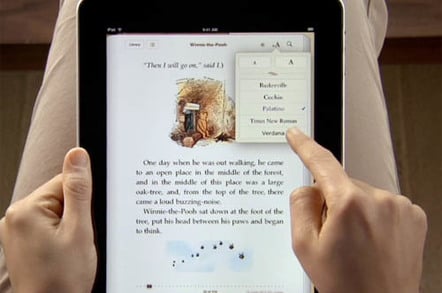 Apple has asked a New York court to kick the antitrust monitor the beaks appointed off the company's payroll, accusing him of being biased against the fruity firm.
Cupertino has been complaining about the court-appointed external compliance monitor Michael Bromwich practically since he got the job, saying that his fees are exorbitant and he's taking advantage of his position to gouge the firm.
Apple's attorney has now written to the District Judge Denise Cote asking her to disqualify Bromwich from serving because of his "wholly inappropriate declaration" to the court last month. Bromwich had defended himself against Apple's complaints that he was stepping outside his role and put forward his own whinges about the firm, saying it wasn't cooperating with him.
Theodore Boutrous, the company's lawyer, said in his letter that by testifying to the court, Bromwich had shown himself to have a personal bias against the firm and personal knowledge of the court case, including facts that were in dispute:
His wholly inappropriate declaration in an adversarial proceeding is compounded by his conduct and the circumstances surrounding his appointment and activities, including his reliance on pre-appointment conversations with the court and plaintiffs as grounds for expanding his mandate beyond the terms of the final judgement, his active collaboration with plaintiffs to broaden the scope of his mandate in this manner and oppose Apple's motion for stay, his financial demands, and his adversarial, inquisitorial and prosecutorial communications and activities toward Apple since his appointment.
Boutrous also complained again that Bromwich's fees were "excessive" and that he was demanding interviews with top Apple execs and board members who in Apple's view had nothing to do with antitrust policy and, according to the lawyer, trying to "crawl into" places where he didn't belong.
His stated desire to monitor Apple's general antitrust compliance "tone" and "culture" and, as he put it to the chair of Appel's Audit and Finance Committee, his request for Apple to "take down barriers" to his access so he can "crawl into [the] company", vastly exceeds the scope of the final judgement, which sharply delineates his role.
Judge Cote appointed Bromwich to the job in October after she ruled that Apple had conspired with major book publishers to fix the price of ebooks. But as early as November, Apple started complaining that Bromwich was overstepping his mark and charging through the nose for it. The fruity firm said that Bromwich's proposed hourly rate was $1,100 and that he was trying to broaden the scope of his assessment of the firm to push up his pay cheque, an accusation Boutrous repeated in his letter. ®
Sponsored: What next after Netezza?