Oracle gobbles Corente al dente, belches clouds of cloud buzzwords
Tech to hook up off-site clusters and in-house IT now in database giant's belly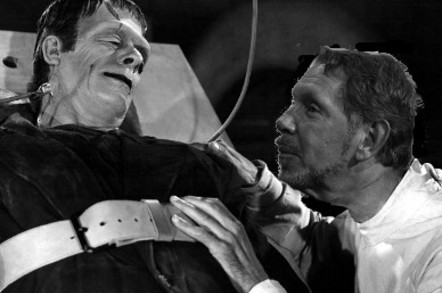 In an announcement laden with the incantations of a tech-trendy witchdoctor – SDN! WAN! Cloud Services Exchange! – Oracle has acquired data networking biz Corente.
The buy, revealed today, gives Oracle access to a company that has been around for close to ten years and first operated under the name "OpenReach".
Corente has sold tech to or partnered with Cisco, HP, BT, IBM, Dell, VMware, and others. It specializes in linking on-premises IT with remote clusters of compute and storage systems via a swath of cloud services gateways, control points, and networks. Its technology can be used to create control layers for applications that wrap in permissions, privileges, and performance analysis.
In many ways, Corente's technology seems complementary to recent Oracle acquisition Nimbula, whose infrastructure management technology has already been paired with open-source storage code from OpenStack for Oracle's cloud answer to Amazon Web Services.
Though Corente claims its tech uses a software-defined networking (SDN) controller, it is not clear from studying its website whether this can truly be considered SDN.
Oracle hopes to use Corente to "virtualize both the enterprise data center LAN and WAN," Oracle said in a statement.
"By combining Oracle's technology portfolio with Corente's industry-leading platform extending software-defined networking to global networks, enterprises will be able to easily and securely deliver applications and cloud services to their globally distributed locations," said Oracle's chief corporate architect Edward Screven.
Financial terms of the deal were not disclosed. ®