Guinness gives games geek world record for 10,607 piece collection
Hoarder says Apple's Pippin is the worst of the lot
A computer science teacher has the world's biggest hoard of games, with a collection of nearly 11,000 software titles and the hardware to play them, according to the Guinness World Records organization.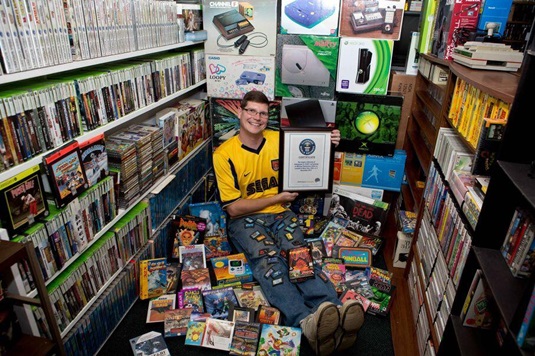 Forget it ladies, he's married.
"I have games on cartridge, laser disc. I have VHS-based games, cassette-based games," Michael Thomasson, a 43 year-old part-time games designer and coding teacher at Canisius College in Buffalo told Associated Press. "It's my first love so it's sentimental."
Thomasson started his collecting in 1982 at the tender age of 12, when his grandparents gave him a Christmas present of a copy of the Cosmic Avenger game, written for the then-popular Colecovision games console. He didn't actually get to play the game – the first space-themed scrolling shoot-em-up that was followed by such greats as Defender – until Santa bought the hardware a year later.
The collecting bug was activated and Thomasson began buying gaming consoles and the software for them with somewhat obsessive vigor. He sold part of his collection in 1989 to buy a Sega Genesis system, and sold the lot in 1998 to fund his wedding to wife JoAnn.
"I was heavy into collecting when we married so she knew what she was getting into," he said.
Thomasson used his knowledge of the games market to rebuild his collection of hardware and software, with a strict budget of $3,000 a year. He now estimates the collection is worth between $700,000, although a visit to Gamespot might disabuse him of that notion.
Now with a young family, his playing time is limited to three hours a week, but one platform in particular gets little hands-on time: Apple's ill-fated Pippin. "Every game on it is awful," Thomasson said. "It's the least fun of anything in the house."
Richard Lecce, 39, who held the first largest games collection award issued by Guinness in 2010 for his 8,616-piece stash, congratulated Thomasson on the announcement. Lecce, a rare-coin dealer in Florida, said that while he has added to his own collection since the Guinness invigilators came to visit, he has no plans to challenge the record.
"My congratulations to a fellow collector," he said. "It's very impressive and I'm very happy for him. It's just a very undervalued and underappreciated art form." ®
Sponsored: Detecting cyber attacks as a small to medium business