Samsung: Men, our Gear smartwatch will make you a hit with the sexy ladies
South Koreans hit 88mph, go back to the 1970s with creepy advert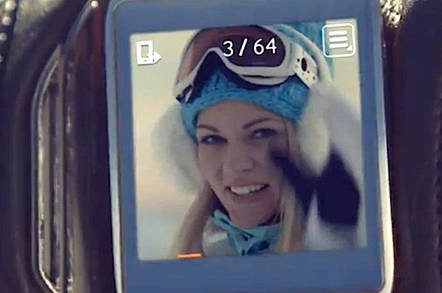 Video Samsung has a new advert for its Gear smartwatch that suggests it's the must-have technology for the latest generation of stalkers and smooth-talking lounge lizards.
The ad depicts two men competing for the affections of an attractive female snowboarder in some wintry resort. One, a skier with a smartphone, is rendered hopelessly clumsy by his outdated technology and is eventually reduced to downing his sorrows, while the Gear user woos the maiden with his snazzy smartwatch, which he activates with a flick of his wrist.
This involves telling her to speak her number into his watch, taking surreptitious photos and video of her on the slopes, finding her favorite wine using internet searching, and then serenading her by using the watch to start cheesy music playing on his phone (which he has inexplicably left sitting nearby).
Folks on social news site Reddit pushed the Gear advert to the top of the site as "the worst ad I've ever seen," describing it as "cringe-worthy." Elsewhere the feedback has also been very critical, and it's clear Samsung and its Mad Men have a lot of work ahead to convince the buying public to try its smartwatch.
Samsung launched Gear in September amid a surge of hype about how wearable computing will change the world. The South Korean firm is reportedly selling fewer than 900 units a day (a figure Samsung disputes), and in this hack's experience Gear sightings are rarer than hen's teeth here in the Silicon Valley hub that's home to Vulture West.
The rush into smartwatches was largely down to the success of the Kickstarter-funded Pebble gadget, and Apple and Microsoft are reportedly developing their own wrist-mounted computers. Sony is probably the oldest continuous seller of smartwatches but even a product revamp and open sourcing older software doesn't seem to have helped sales.
Whether or not Samsung's latest advertising effort will propel Gear up the sales charts remains to be seen. Next month's CES will be filled with competing products, but El Reg isn't sure adverts like this are going to help make Samsung's case. ®