HDDs? Array with them... All-flash pusher Pure on its plans for 2014
Storage upstart hopes to make headway against all-flash rivals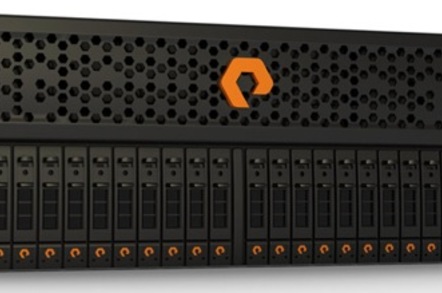 All-flash array startup Pure Storage claims it is now IPO-sized in revenue terms and boasts of a coming fourfold increase in array capacity.
Stifel Nicolaus MD Aaron Rakers hosted a call with Scott Dietzen, Pure's CEO, and circulated the following nuggets about Pure's position in the array market.
The Pure Storage roadmap includes:
Replication to become generally available in early 2014.
Effective max array capacity will jump from 120+TB now to 500TB in 2014. This implies raw capacity of 145TB, a fourfold increase.
A unified data management framework is coming.
Pure, which uses mostly Samsung SSDs, has a likely usage of 3D V-NAND going forward.
Pure's average deal size has consistently trended in the ~$100,000- $250,000 range with upfront effective $/GB price points matching 10k/15k RPM mission-critical HDDs, it says – meaning the $3-$6/GB range with an average 6:1 data reduction ratio from its deduplication and compression). It is as low as $2/GB with higher reduction ratios in VDI environments. Rakers notes Gartner data showing that VMAX, high-end VNX, IBM DS8000, HDS VSP and HP 3PAR arrays are often in the $2/GB area, excluding software and support.
Pure has seen average sequential growth in excess of 50 per cent over the past several quarters. The CEO said it is IPO-sized from a revenue perspective. El Reg's storage desk thinks this means a $100m annual revenue run-rate has been achieved.
The main deployments are with non-virtualised database environments, followed by virtual server and then VDI implementations.
Pure stated that of the 10,000-plus SSDs it has deployed, it has only seen four complete drive failures. Since it uses consumer-grade MLC flash it reckons this is very good news.
Changing the channel?
The company has more than 100 channel partners who do more than 90 per cent of Pure's deals. New offices have been opened in Australia and New Zealand.
Pure's deduplication and compression capabilities are a core differentiator. The company notes that its 6:1 average reduction ratio reflects 2 1⁄2 from dedupe and 2 1⁄2 from compression; the remaining reduction comes from thin-provisioning. Most database environments rely heavily on compression and often see reduction ratios in the 3:1 to 6:1 range. Virtualized environments more heavily utilise deduplication than comression and can see upwards of 10:1 reductions.
Rakers notes that EMC's XtremIO XtremIO array does not offer compression, at least initially. He also points out that many primary disk-based storage arrays often suggest that customers shouldn't use compression given the adverse performance implications.
Pure Storage sees an evolutionary path toward all-flash storage infrastructures at the primary tier of the data centre over the next 5-7 years. It has a few customers that have gone all-flash, completely eliminating HDDs from their data centres.
Lucky 13
The developments coming should enable Pure Storage to have a good chance of overtaking Violin Memory as the top-selling all-flash-array startup. It is going to be fascinating to see how Pure's growth is impacted by EMC (XtremIO), HP with its 3PAR 7450, IBM with its coming FlashSystem gear, Dell with its all-flash Compellent HDS with its all-flash VSP, NetApp with its FlashRay and, last and maybe least, Cisco and Whiptail.
That makes seven mainstream system suppliers who will focus much competitive effort onto Pure, as well as Violin Memory and SolidFire and, how could we forget, Fusion-io, Nimbus Data and Skyera.
That's a baker's dozen of all-flash array vendors and, we expect, there will be a shakeout towards the end of 2014 as the less successful startups struggle, and under-performing mainstream vendors think about strengthening their product offerings by acquisition. ®
Sponsored: Your Guide to Becoming Truly Data-Driven with Unrivalled Data Analytics Performance