Rackspace roadmap preps new cloud tools to take on big-bucks giants
Our mole reveals the skinny on Texan hoster's upcoming plans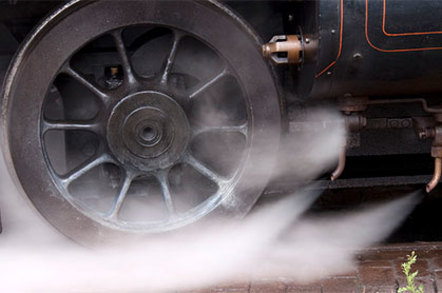 Rackspace has a raft of upgrades planned that could make life easier for sysadmins who work with the company's public cloud and hosted managed servers, we're told.
This is according to roadmap slides, shown to The Register by a source, that were presented during Rackspace's webcast with customers earlier today.
To confront the threat posed by rivals Amazon and Microsoft, Rackspace has so far launched a refreshed range of flash-stuffed "Performance cloud servers" with generous amounts of RAM.
Now, it appears Rackspace is talking up a range of new capabilities that should increase its cloud's quality of service, and bring in features to close the gaps with Amazon.
According to the slides, one of the main upcoming features will be virtual machine image sharing, which will let developers share client images between Rackspace's public and private cloud services.
It will also upgrade its public cloud by adding volume cloning to Cloud Block Storage; launching an upcoming cloud database service named "CloudDatabase - Reds"; and revealing an orchestration and telemetry service named "CloudFeeds" that uses the open-source Chef tool.
It is also going to roll out an upgraded access system that can mate Rackspace portal IDs with internal login systems via SAML authentication, we're told.
Along with this, it will shortly roll out support for the upcoming Icehouse distribution of open-source cloud control-freak OpenStack for its private cloud. This will bring with it a number of upgrades including a unified storage platform based on Ceph, support for OpenStack Heat orchestration, and the aforementioned image sharing.
In addition, the company plans to soon offer a hosted Hadoop service from Hortonworks.
As Amazon, Google, and Microsoft have invested more resources into their clouds, Rackspace has been caught in the tough position of being large enough to compete with them – but small enough that matching them on features and price can be painful.
It has tried to counter their proprietary tech stacks by relying on the open-source OpenStack software, a troubled project with great potential.
By emphasizing hybrid cloud capabilities, and adding in features found in other clouds like telemetry and hosted database services, the company is sticking with its goal of offering punters reliable performance, albeit in a marginally smaller product offering. ®