DisARMed: Geeksphone's next high-end mobe to pack Intel x86 inside
Atom-based handset will be able to run OS of your choice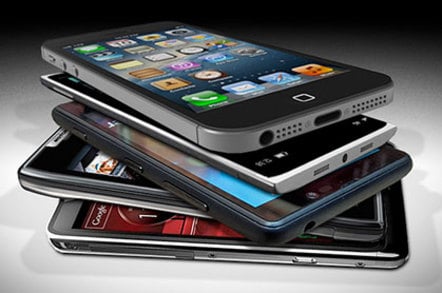 Spanish startup Geeksphone has announced that its next smartphone model will be its first to be powered by an Intel mobile processor.
The upcoming Geeksphone Revolution, which the company has been teasing since November, will be based on an Intel Atom Z2560, part of Chipzilla's "Clover Trail+" line, Geeksphone said in an announcement on Friday.
Codenamed "Cloverview," the Z2560 is a system on a chip (SoC) featuring two 32-bit Hyper-Threading "Saltwell" Atom processor cores clocked at 1.6GHz.
The part has already been seen in a few tablets, including the Samsung Galaxy Tab 3, the Asus Memo Pad FHD 10, and the Dell Venue 7. But Geeksphone's new offering may be the first time this particular SoC has been used in a smartphone.
Intel has struggled to gain a foothold in the smartphone market, with most mobe makers preferring to use chip designs from rival ARM. But some recent trials have shown that Intel's latest Atom chips actually outperform some ARM-based systems where it comes to power consumption – if you believe those sorts of claims, that is.
Not that Geeksphone switching to Atom will exactly catapult Intel to smartphone success. The Spanish firm is a niche vendor that so far has eked out a small business for itself selling developer-oriented handsets based on the Mozilla Foundation's HTML5-loving Firefox OS.
Those earlier devices have generally been more fully featured than other vendors' Firefox OS phones, but they have still been fairly modestly-specced ARM-based devices that don't compete on the high end of the market. With the Revolution, Geeksphone seems to be looking to reach a broader audience among those who prefer handsets that offer serious juice.
Among its other features, the Revolution will feature a 4.7-inch IPS screen at 960x540 resolution, a 2000mAh battery, an HD-capable 8Mp camera with flash, and expandable storage. RAM and storage space for the device were not announced.
Perhaps the Revolution's most intriguing feature, however, is that Geeksphone says it will not lock down the OS nor prevent the owner from switching to a different operating system in any way. The devices will initially ship with Android, the company says, but customers will be able to choose "other alternatives," including Firefox OS.
Geeksphone says it expects to bring the Revolution to market in the first quarter of 2014. ®