Australian Technologies curriculum to be published but not endorsed in Jan 2014
Government's Curriculum Review to assess if coding-for-kids plan is among 'world's best'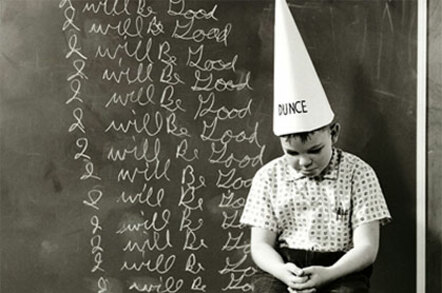 Implementation of Australia's Technologies curriculum, including the Digital Technologies stream that represents the nation's first attempt to put computational thinking in the classroom from Kindergarten to Year 10, is almost certainly on the back burner for several months.
The Reg learned of the delay last Tuesday when we spotted the fact that The Australian Curriculum Assessment and Reporting Authority (ACARA) had changed its timetable for publication of the curriculum. Spokes-entities from the federal Department of Education explained the delay by telling us that "The Australian Standing Council for School decided not to "endorse the curriculum as final, given that the Australian Government is preparing to undertake a Review of the Australian Curriculum."
ACARA has today told us that "The Ministers agreed to the noted curriculum being made available for states and territories. So while it was noted, not endorsed, we are able to make it available through publication. We intend to do that in January 2014, making it clear that it is waiting endorsement from Ministers."
In other words, the curriculum won't be signed off.
And it will still be subject to the federal government's planned review of the national curriculum, which the federal department of education today told us "is expected to be completed in 2014."
That review, we have been told "will look at the balance, breadth and suitability of the Australian Curriculum. The Government is committed to ensuring that the curriculum which is finally endorsed meets student needs and parents' expectations."
We asked the department why, given the Digital Technologies Curriculum has broad industry support and has been suggested as a key economic development initiative, it is appropriate to further delay the introduction of this material to Australian schools.
The department's response is as follows:
"The Government wants the Australian Curriculum for Technologies to be the best it can be. While there has been broad consultation, the Government believes that the curriculum can still be improved. To that end it is appropriate to undertake the Review and listen to what the experts have to say. That way, we can ensure that the Australian Curriculum can be benchmarked against the world's best."
Vulture South takes that to mean a re-write is entirely possible.
Australia's States and Territories have considerable independence in what they choose to teach and can devise their own curricula. The Reg imagines that with the Technologies Curriculum left without ministerial endorsement, few if any will rush to implement it.
This state of affairs means years of effort to develop a Digital Technologies curriculum aimed at meeting industry's oft-stated need for a more-skilled workforce has been put on the back burner, possibly for more than a year. As we've pointed out in the past, even if the Digital Technologies curriculum is adopted as rapidly as is possible it will be 2030 before the first school-leavers with an education permeated by computational thinking arrive in the workforce or tertiary education.
Further time spent refining the curriculum will push that date further into the future, an interesting outcome for a nation that says it understands the need to diversify its economy. ®