Euro satellite to count a billion stars, find origin of Milky Way
You think that's a lot? It's only counting 1 per cent of galactic suns
The European Space Agency's billion-star mapper Gaia blasted off this morning aboard a Soyuz rocket on its mission to study millions of suns.
The satellite has been dispatched to create the most accurate map yet of our galaxy, using accurate measurements of positions and motions of one per cent of the roughly 100 billion stars in the Milky Way to answer questions about its origin and evolution.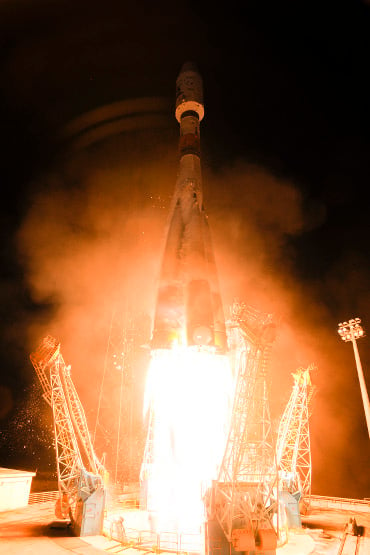 Soyuz VS06 with Gaia space observatory blasts off from Europe's Spaceport
Gaia will check out each of the billion stars an average of 70 times each over its five years of operation. Each time, it will plot the position of the sun and its key physical properties, like brightness, temperature and chemical composition.
The huge census should provide boffins with the position, motion and properties of the stars to give the most complete picture of the galaxy yet.
"Gaia represents a dream of astronomers throughout history, right back to the pioneering observations of the ancient Greek astronomer Hipparchos, who catalogued the relative positions of around a thousand stars with only naked-eye observations and simple geometry," said Alvaro Giménez, ESA's director of science and robotic exploration.
"Over 2000 years later, Gaia will not only produce an unrivalled stellar census, but along the way has the potential to uncover new asteroids, planets and dying stars."
Over 400 different people at scientific institutes across Europe will end up processing and analysing the huge amount of data Gaia will collect, estimated to exceed one petabyte.
The Soyuz booster lifted off without a hitch at the scheduled time of 9.12am GMT from Europe's spaceport in French Guiana. Around ten minutes later, after the first three stages had separated, the Fregat upper stage ignited and carried the probe into a temporary parking space in a 175km high orbit.
From there, Fregat fired again to take Gaia into its transfer orbit, before it separated from the upper stage 42 minutes after blastoff. ESA boffins in Darmstadt in Germany have already taken control of the spacecraft and started booting it up.
The sunshield, which both protects the satellite from soaring temperatures and carries solar cells to power the craft, has been deployed and Gaia is now en route to the stable point at L2, around 1.5m km from Earth as seen from the Sun. Tomorrow, mission control will get Gaia to perform the first of two critical thruster firings to make sure its on the right path to its new home, followed by the second around 20 days later to stick it in operational orbit.
"After years of hard work and determination of everyone involved in the mission, we are delighted to see our Gaia discovery machine on the road to L2, where we will continue the noble European tradition of star charting to decipher the history of the Milky Way," said Giuseppe Sarri, ESA's Gaia project manager. ®