Datawind's low cost Aakash tab comes to UK, US
£30 7-incher already sold out in UK, will land Stateside in 2014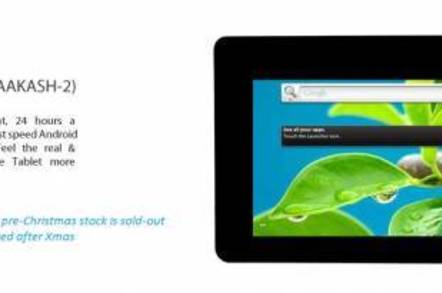 Datawind, the British company behind India's low-cost Aakash tablet, is spreading its wings with the launch of the device in the UK this week and plans to sell in bricks and mortar stores in the US early next year.
The firm's UbiSlate 7Ci, the commercial name for the Aakash 2 tablet created to meet the needs of Indian students, was made available to UK punters from Datawind's web site for just £29.99.
However, in a story that will be familiar to the Indian government, Datawind has already found itself unable to meet demand.
A message on the site on Thursday read "Due to overwhelming demand pre-Christmas stock is sold out. Orders placed now will be received after Christmas."
More expensive versions, the UbiSlate 3G7 and 7C+, were still available at the time of writing.

The 7-in tablet, which was designed by Datawind and assembled in India from mainly Chinese parts, was at the centre of New Delhi's ambitious 2011 project to put computing devices in the hands of over 50 million students across the sub-continent.
However, the project has been beset by delays.
The first generation Aakash tab received terrible reviews from the few who got their hands on it, then manufacturing problems hit its successor.
After a falling out between regional Indian government and Datawind was patched up things seemed to be back on track in November 2012, but in July this year the London-based firm seemed to be losing its grip on the contract.
That may explain its readiness to enter the UK retail market.
Despite poor reviews and low specs, the UbiSlate 7Ci could still appeal to low income families for whom even rival 7-inchers the Tesco Hudl (£119) and Aldi Medion Lifetab (£80) are too pricey.
Datawind has also set its sights on selling through unnamed retailers in the USA early next year, with prices ranging from $38 to $149 for a variety of devices.
In fact, it's already being piloted in isolated pockets of the States in projects designed to help disadvantaged kids.
For the record, the Aakash 2/UbiSlate 7Ci features a 1GHz Cortex A8 processor processor and a 7in, capacitive, 800x480 display. The Android 4.0-based device packs in 512MB RAM and internal memory of 4GB, which is expandable up to 32GB using a micro SD card. ®