Samsung sees RDK as route to DOMINATION of US set top market
Back off, cable guys. When prices drop, it's anyone's market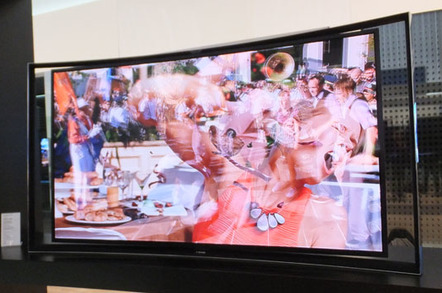 Comment For as long as Faultline has commented on this industry, the set-top market in the US has been dominated by the cable TV industry – which in turn has been dominated first by Motorola and secondly by Cisco.
Things have changed somewhat over the years, in that Pace has led a challenge from the UK and in direct to home satellite, French Technicolor nee Thomson, has carved out a US niche, with a strong relationship with DirecTV while EchoStar has done the same with its cousin, Dish Networks.
In IPTV, Motorola kept much of the lion's share at AT&T but also brought Sigma into the set-top chip business, while the hybrid FiOS implementation at Verizon also had a strong element of Motorola.
But none of the three markets - cable, satellite and IPTV - in the US have ever been able to offload all of the intricacies of separate implementations and their integration with different conditional access systems, different encoding styles and formats, and different set top chips, to the extent that a pure play Consumer Electronics company could lead the charge.
But with the advent last week of the Samsung's licensing of RDK (reference design kit), that may all be about to change.* We're looking at the double prospect of Samsung taking leadership in US set tops, so making less room for the more traditional suppliers, at the same time as the average price per device crashes to something like half of what is it today. Standardised devices means higher volume purchasing agreements and lower ASPs.
The emergence of Samsung as a viable contender in pay TV in the US has already been testified to by a variety of US analysts, which talk about market share being eroded from the Arris acquired Motorola Home subsidiary, in favour of both Samsung and Pace. Cisco has recently fallen from grace and from a position where a year ago it had challenged Pace as the global leader in set tops, it has fallen away slightly.
It used to be straightforward – a 50 per cent market share for Motorola and a 25 per cent market share for Scientific Atlanta, which went on to make up the Cisco element, when it was acquired back in 2005. But it is far from straightforward today. That was also the year that Pace made the first breakthroughs in unbundling the relationship between the device hardware and the Motorola conditional access, using a software emulator called EngineWare.
The relief in the market was palpable and Comcast rewarded it with $500m of orders over the next few years, mostly in HD DVR devices. Earlier the FCC had tried to pull the same unbundling trick in 2004 between decryption and set top function, with its CableCard initiative. Today after many mishaps along the way there, there are CableCards from all the major conditional access firms in the US that can be plugged straight into set tops.
But while these moves have introduced some level of competition into the US pay TV market, they have not totally crashed the pricing there, and there has been a lot of optimism about shipments, due to a wide acceptance among Pay TV players of transcoding home media gateways, led by the Comcast specifications, initially for its Xfinity X1 and X2, but now for the XG5 it unveiled in January, which has turned into a fight between Arris and Pace with both offering a reference design for it, which uses Intel Puma 6 DOCSIS chips and a Broadcom SoC.
Getting ahead with headless gateway design
In parallel with the Comcast announcement, most of the other major pay TV players in the US, also have a similar headless gateway design, for which they are about to allocate contracts (probably at CES 2014). What this means is that all the serious profit is being taken out of the market by these top-end devices, themselves able to use RDK, and what's left are commoditised devices, which with the introduction of RDK will rapidly lose their ability to generate serious margins.
What has kept companies like Samsung out of this lucrative market for some long time has been that fact that it cannot come to market, due to its scale, with orders that are in any lower numbers than millions. The others are all used to separate orders for lower numbers, although Motorola was once in much the same position regarding the cable market, and needed volume to make anything it did worthwhile.
Here the cloud has come to everyone's aid. UI and recommendation can be moved to the cloud, and use a relatively small part of the already defined RDK (remember it stands for Reference Design Kit) to render such function on a TV. The idea is that user navigation, third-party apps and app management are all above the RDK level and can be different to fit in with the existing systems of the pay TV players.
But use of things like DLNA-compliant media streamers and servers, the media player and the recorder, and other elements such as closed captioning, software downloads and updates, and remote management like TR 069, are all part of the code provided inside RDK. This is all part of commoditisation of the software layers that existing set-top leaders once delighted in controlling – and did so at least marginally differently from one another. Now they have to do most of it in the same way.
This should lead to faster device development, faster testing and the use of open source for adding more functions into the RDK, so that nothing can be added that is proprietary, which in turns means that no one can charge for anything that is proprietary.
If we go back to that emulation that Pace did back in 2005, it took it three years to get Motorola to admit that yes, "the device does the same thing that our device does," and that was with huge pressure from Comcast to help. That's why the Motorola boxes were dated and behind the times, because it had such a grip on device development it had never needed to innovate. With RDK that is all swept aside, but we had perhaps not reckoned with how fast Samsung has learned to move.
Adapt or die
It took Samsung three years to get brave enough to take on the iPhone and it has had a ripe old time of it in the US, with legal actions across the globe and the average Apple fanboi refusing to touch the Samsung brand. It has learned a big lesson about adaptability there, and it is now seeing new markets far more quickly than it perhaps has in the past and the transition of the US set-top market to a commoditised software stack plus cloud functions, gives it a perfect opportunity to strike.
The announcement will be backed up with more detail at the TV of Tomorrow Show in New York in the US. Samsung Electronics America is the company that has licensed the RDK and talks about using it to deliver a rich, multiplatform home entertainment experience.
The RDK has so far been supported by more than 100 licensees, and was set up as a joint venture between Comcast Cable and Time Warner Cable.
"As a leading provider of Pay TV CPE worldwide, Samsung recognizes the value of a common platform," said Stephen Goldstein, vice president and general manager, STB at Samsung Electronics America's Enterprise Business Division. "The RDK allows Samsung to deliver devices to operators faster and with broader scale. Samsung has already begun deploying Set-Top Boxes based on the RDK and we look forward to more RDK-based projects in the United States and abroad."
Steve Heeb, president and general manager of RDK Management, LLC, said: "One of our goals with the RDK program is to accelerate development of an advanced software solution throughout the industry, which allows MVPD's the opportunity to provide enhanced user experiences across a broad set of STB, gateway, and SoC platforms. He added: "Samsung's support of the RDK helps expand it as global platform available to operators around the world."
Joining the RDK gang
Over the years Samsung has become more and more active in set tops, and earlier this year bought Boxee, more of a set-top provider than a set-top maker, but none the less it will have gained good US market know-how from the purchase.
A year ago, Samsung completed a long-term project with Liberty Global in Europe, to help design and build the new home media gateway, based on Intel chips in a project led by NDS, which created the Horizon set top for Liberty Global, a deal that promised millions of gateway shipments, and delivering to Samsung much needed integration expertise.
Samsung has confirmed to US newspapers that Comcast has already received a batch of Samsung set tops which are RDK-based. Time Warner Cable and Liberty Global, which also have RDK in their roadmaps, are already Samsung customers while in the US Cablevision and Bright House Networks are known to take some Samsung devices. In Europe Com Hem in Sweden and Virgin Media in the UK have also started sourcing set-tops and gateways from Samsung.
Samsung joins other CE manufacturers such as Humax and LG Electronics who also have RDK licences.
* (RDK is an integrated software stack for set-top devices whose components are available for use on devices used by operators with an RDK licence agreement.)
Copyright © 2013, Faultline
Faultline is published by Rethink Research, a London-based publishing and consulting firm. This weekly newsletter is an assessment of the impact of the week's events in the world of digital media. Faultline is where media meets technology. Subscription details here.