Suffering SPITZER! Boffins discover Milky Way's MISSING ARMS
New study affirms our galaxy has FOUR spiral arms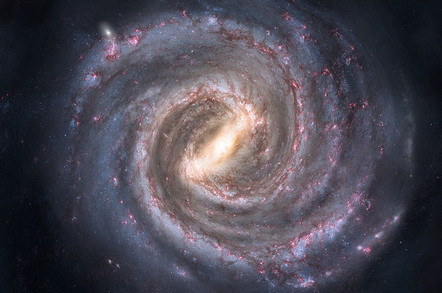 Pic For years, boffins have been arguing over whether our galaxy has four spiral arms or just two, as seen by NASA's Spitzer Space Telescope.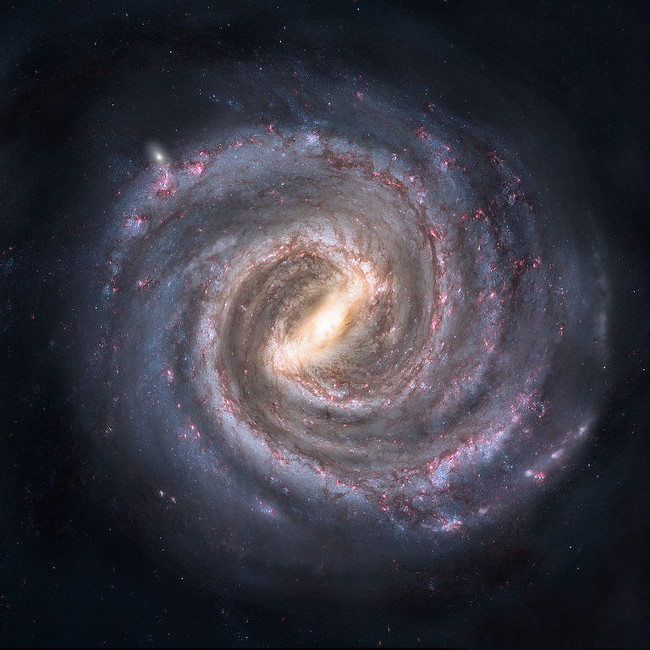 You spin me right round ... an artist's impression of the Milky Way
The only way to confirm the theory is to try to figure out where the stars are and their distances from us, since we're on the inside of the galaxy, making it tough to see what it might look like from the outside.
Now a new 12-year study has reaffirmed the theory that the Milky Way is a four-armed spiral galaxy, as originally hypothesised in the 1950s. Back then, astronomers used radio telescopes to map the galaxy, focusing on clouds of gas in which new stars are born, and deduced that there were four arms.
That theory was thrown into debate when Spitzer searched for the infrared light emitted by stars and announced in 2008 that it had spotted around 110 million of them, but only found evidence of two spiral arms.
The latest study is part of the Red MSX (RMS) Survey conceived by the University of Leeds to systematically search the entire galaxy for massive young stellar objects. Using several radio telescopes in Australia, the US and China, distances and luminosities of these massive stars were calculated, showing a distribution across four spiral arms.
"It isn't a case of our results being right and those from Spitzer's data being wrong – both surveys were looking for different things," said Professor Melvin Hoare, a co-author of the paper. "Spitzer only sees much cooler, lower mass stars – stars like our Sun – which are much more numerous than the massive stars that we were targeting."
Massive stars are much less common because they only live for a short time, galacticly speaking, around 10 million years. That shorter lifespan could be the answer to the discrepancy in the results.
"Lower mass stars live much longer than massive stars and rotate around our galaxy many times, spreading out in the disc. The gravitational pull in the two stellar arms that Spitzer revealed is enough to pile up the majority of stars in those arms, but not in the other two," explained Professor Hoare. "However, the gas is compressed enough in all four arms to lead to massive star formation.
"Star formation researchers, like me, grew up with the idea that our Galaxy has four spiral arms. It's great that we have been able to reaffirm that picture."
The full study, "The RMS survey: galactic distribution of massive star formation" was published in the Monthly Notices of the Royal Astronomical Society. ®