XMAS SPACEWALK planned to fix ISS's dicky cooling gear
In space, no one can hear you sing carols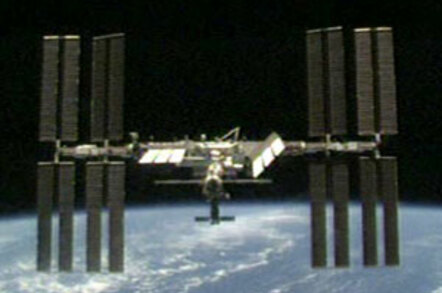 NASA has announced "a series of spacewalks to replace a faulty pump module" on the International Space Station (ISS).
The ISS has been misbehaving of late, with cooling systems performing so sub-optimally there's a prospect its crew could be cooked. NASA was understandably worried about that and contemplated spacewalks as the remedy. The space agency has now decided they're necessary, scheduling work for December 21, 23 and even Christmas Day to set things to rights.
Here's NASA's description of the mission plan:
NASA astronauts Rick Mastracchio and Mike Hopkins will remove a pump module that has a failed valve. They will replace it with a spare that is stored on an external stowage platform. The pump is associated with one of the station's two external cooling loops, which circulate ammonia outside the orbiting platform to keep internal and external equipment cool. Each of the three spacewalks will last six and a half hours, it is estimated.
All three operations will be shown live on NASA TV, which should brighten up Christmas considerably once you get tired of configuring the gadgets Santa brings to your loved ones.
As you watch, spare a thought for the ISS crew, who will probably have no presents – that's because the need to go spacewalking means a planned supply mission scheduled for this week has been postponed. The supply mission, courtesy of commercial outfit Orbital Sciences, "now will launch no earlier than mid-January." ®