Marketing told us: 'Justin Bieber is a fad. He's not going to last.' – Company formerly known as RIM
Plus: 'There is no way to make your Xbox One backwards-compatible'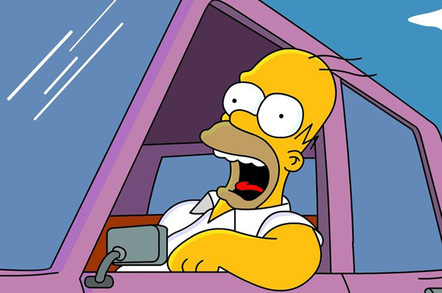 Quotw This was the week when former senior BlackBerry bod Vincent Washington claimed the Canadian company turned down an offer from Justin Bieber to be the firm's brand ambassador back at the peak of its popularity.
He said:
One thing we missed out on was that Justin Bieber wanted to rep BlackBerry. He said: 'Give me $200,000 and 20 devices, and I'm your brand ambassador.' And we pitched that to marketing: Here's a Canadian kid, he grew up here, all the teeny-boppers will love that. They basically threw us out of the room. They said: 'This kid is a fad. He's not going to last.'

I said at the meeting: 'This kid might outlive RIM.' Everyone laughed...
This was also the week that a financial house that numbers its dollars in the oodles spammed a Reg reader with thousands of bankers' private data.
The anonymous chap was minding his own business when The Depository Trust & Clearing Corporation (DTCC), which handles the vast bulk of stock and securities transactions for the US, started sending him a load of diagnostic emails with session IDs, transfers, and account details for executives at big-name customers in them.
He said:
I got a bit twitchy when I saw lots of different bankers logging in: I'm studying Internet Crime, so I've been doing a lot of researching on, well, internet crimes.

I know one thing, from when I worked at an ISP, if this leak happened there we'd have done a complete strip down: new user IDs, passwords (for systems and software), new host names, new IP ranges, new everything! Anything and everything that went outside the core IT staff would be pulled and set up as new, especially if it went to some random person's email.
And DTCC pulled out the old human error excuse:
These messages were inadvertently sent out as a result of human error. We have confirmed that this was an isolated incident and that no other individuals received this or similar information.

We have identified the situation quickly and taken steps to protect our client's information. We are also working with the individual who received these messages to resolve any remaining issues.
Speaking of leaks, MPs are warning that the UK's borders have potentially been letting gangsters slip through as they rely on twenty-year-old IT systems. A report from the Public Accounts Committee found that private jets were being let into Britain without adequate checks on who was inside, while lorries arriving in the country were are able to motor in without inspections to reveal whether illegal immigrants were hiding in them.
Margaret Hodge, head of the committee, said:
There are worrying gaps in the intelligence data available to the Border Force and its IT systems are not up to the job.

The force neglected to examine freight for illicit goods, neglected to check lorries in Calais for concealed illegal entrants, and failed to check passengers coming into Britain on private planes or boats, potentially letting billionaire gangsters off the hook.
While the report said:
The Border Force's IT systems are inadequate and its future development plans seem to be unrealistic. Frontline staff rely on an unstable data system — the Warnings Index — to carry out checks at the border. This system is at risk of collapse, but it is unclear when or how this system will be replaced.
Also this week, Microsoft has been warning Xbox One owners that following 4chan's instructions to make your Xbox One backwards-compatible could actually brick the brand new box. Director of programming Larry Hryb said:
To be clear there is no way to make your Xbox One backwards compatible & performing steps to attempt this could make your console inoperable.
And separately, the firm has promised to make software licensing a bit less of a torturously complex minefield; something that business clients would definitely welcome. The company is proposing the Microsoft Products and Services Agreement (MPSA), which aims over time to consolidate all licenses onto a single master agreement, regardless of business size or type.
One channel partner said that the fix couldn't come too soon, but it would be easier said than done:
When I speak to customers they always moan that buying software, particularly with Microsoft, is too complex. I agree with the sentiments [of MPSA] but the sentiment is easier [to get right] than the execution.
And Martin Thompson, analyst at the ITAM Review, was similarly sceptical of the announcement:
There is little substance to their statement. Flexibility equals more options and choice, so it's a contradiction to suggest both flexibility and simplicity.

Younger, agile competitors are offering good software with a few clicks and a credit card. Why is it I need to speak to a licensing rocket scientist every time I want to buy software from Microsoft?

Simplicity and frictionless commerce shouldn't be underestimated.
In the latest NSA revelations, it has emerged that spooks infiltrated the massively multiplayer online role-playing game World of Warcraft in a bid to tackle info-swapping terrorists. The agency reckoned that online games were a "target-rich communications network" that allowed terrorists to meet and communicate securely and they weren't the only ones who thought so. At one stage, there were so many spies in online gaming, the NSA talked about a "deconfliction team" to ensure they weren't just spying on each other.
The document said:
Al-Qaeda terrorist target selectors... have been found associated with XboxLive, Second Life, World of Warcraft, and other GVEs [Games and Virtual Environments]... Other targets include Chinese hackers, an Iranian nuclear scientist, Hezbollah and Hamas members. GCHQ has a vigorous effort to exploit GVEs and has produced exploitation modules in XboxLive and World of Warcraft. After beta testing, they expect reporting to begin in April 2008. The FBI, CIA and the Defense Humint Service all have HUMINT operations in Second Life and other GVEs and are very interested in forming a deconfliction and tipping group that would be able to collaborate on operations.
And finally, also in the US, one of Google's employee buses was held up by anti-gentrification protesters in San Francisco this week. The activists are trying to raise awareness of the widening inequality in the city, brought about by an influx of tech-generated wealth. They claim that the hefty pay packets of the tech luminaries is driving up rents and driving other folks out.
Googlers attempted to stick up for themselves on Twitter, with one saying:
I agree with you that SF isn't for sale, but don't hate on me for my job. You think I LIKE commuting to Mountain View? this protest is dumb.
And one bloke – whom it later transpired that he was not the Google employee he appeared to be – jeered:
I can pay my rent, can you pay your rent? Well, if you can't, why don't you go to a city where you can afford it.

Get a better job.
®