Why America is no longer slurping electricity from Russian nuke warheads
Uranium handover provided 10 per cent of all Uncle Sam's 'leccy, we're told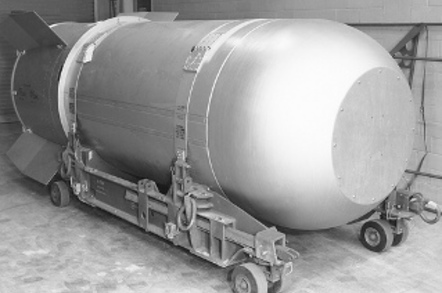 The US government is set to wrap up a little-known project that involved generating electricity from Russian nuclear warheads.
The Megatons to Megawatts program is a 20-year partnership that expired this year: it pulled uranium out of Soviet warheads and repurposed them into fuel for nuclear reactors. The program uses various chemical processes to convert the weapons-grade material to a low-enriched form that can be safely used in US power plants.
According to the United States Enrichment Corporation (USEC), which has been running the program since its launch in 1993, the Megatons to Megawatts effort has secured some 500 tons of highly enriched uranium from the dismantling of missiles. The group estimates that the extracted uranium could have supplied some 20,000 warheads.
The program, which was backed by the US and Russian governments, was carried out by USEC stateside and Techsnabexport (TENEX) in Russia. Born out of the collapse of the Soviet Union, the program was constructed over the course of an 18-month negotiation process.
"Together, USEC and TENEX, working in close partnership with our respective governments in the United States and Russia, have fueled the production of clean, reliable electricity through an historic nonproliferation program that USEC funded at no cost to taxpayers," said USEC president and CEO John Welch.
"Over the past two decades, our commercial business operations have greatly advanced the strategic policy goals of our national governments, benefitting all mankind with a safer, cleaner world."
Over the course of the two-decade effort, the USEC estimates that the Russian-derived uranium stockpile has delivered as much as 10 per cent of all power consumed in the US. Though the idea of pulling reactor fuel second-hand from 1970s and 1980s bombs may disturb some, keep in mind that this an industry that still relies in part on the PDP-11.
With the expiration of the deal, the program is set to conclude. Earlier this week the final shipment of uranium left Russia en route to a facility in Paducah, Kentucky, where it will be converted into low-enriched reactor fuel.
The two firms said they will continue to move non-weapons-sourced Russian uranium to the US through a commercial deal for smaller shipments of low-enriched uranium. ®