Don't want to get locked into IBM's cloud? Um... IBM has a toolkit for you
Big Blue's ICStore punts cross-cloud migration
IBM Labs software researchers have devised technology that moves your data between different clouds, public and private - including IBM's own Softlayer product.
It's called InterCloud Storage (ICStore) and moves data securely. IBM says storing data on multiple clouds, private and/or public, helps guarantee cloud storage service continuity.
ICStore is not a product but a software toolkit and the messaging is that InterCloud is a cloud of clouds. Have data stored in more than one cloud will cost more but will increase data access resiliency if one cloud storage provider has an outage or simply fails.
IBM fellow Evangelos Eleftheriou said: "Our cloud-of-clouds invention can help clients avoid service outages and security incidents that impact the reliability and security of individual clouds. We are adding multiple levels of redundancy and reliability by making cloud migration and backup easier and faster than is currently possible."
IBM says the toolkit, which has an object storage interface; "is a replicated storage system. Our method explicitly addresses the problem of space-efficient data replication using a key-value store (KVS) interface available from cloud providers today. This interface is simple and provides methods for writing and reading an entire blob (any binary data), for removing blobs, and for listing all defined keys."
The toolkit "implements a wait-free efficient algorithm that emulates a fault-tolerant KVS from a set of KVS replicas in an asynchronous environment. Our implementation serves an unbounded number of clients that use the storage. It tolerates crashes of a minority of the KVSs and crashes of any number of clients. We note that applying state-of-the-art reliable storage solutions to this scenario is either impossible or prohibitively inefficient."
If a cloud fails, "the back-up cloud immediately responds and ensures data availability — transparently to the user. No synchronisation or communication among cloud clients is needed."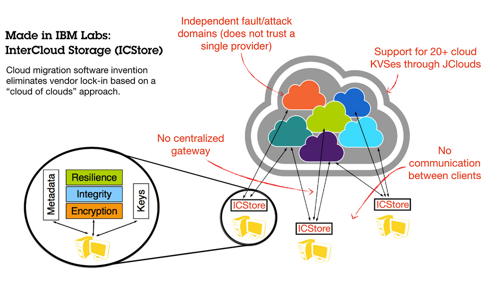 InterCloud Storage infographic
IBM's SoftLayer is the default storage provider and it provides the object-based interface. The combination of the toolkit and SoftLayer enables clients to overcome limits in their cloud storage capacity by dynamically routing to an alternative storage system—such as easily migrating from a remote public cloud to on-premise private-cloud-optimising the overall efficiency of data storage management.
Andres Rodrigues, CEO of cloud storage gateway startup Nasuni, said: "IBM has the right idea. Every system integrator should be looking at how to integrate cloud storage into their offerings. It is also architecturally sound to funnel all of the data and synchronisation services through the hub rather than having to depend on client-to-client communications. That will make it scalable and relatively easy."
He notes some limitations to IBM's technology: " Unfortunately, this is essentially a do-it-yourself kit. ... The role of a system integrator, like IBM, should be to evaluate each cloud storage provider for reliability, robustness and performance; monitor clouds and troubleshoot problems; devise a means for backing up and protecting data, plus dozens of other tasks."
One thing in the ICStore's favour is that it enables customers to avoid SoftLayer cloud lock-in.
The InterCloud Storage toolkit was demonstrated in June at the IBM Edge 2013 conference in Las Vegas, with IBM's Storwize array, and is available for early trial testing. ®