Sky broadband goes TITSUP ALL DAY, thwarts Brits' Xmas web shopping
Ho ho h– Connection reset by peer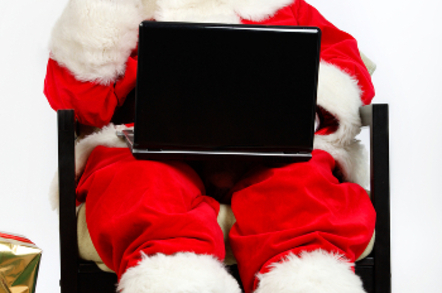 BSkyB's broadband internet and phone service Sky Talk have been down for at least a day in London – and may not be fixed any time soon.
Brits say they have been unable to get online following a cock-up affecting an exchange in Blighty's capital. According to the entertainment giant's network status page:
Broadband outage In London

There is currently an exchange outage in the London area which is resulting in a loss of broadband services. Areas include: Stamford Hill, Dartford, Ewell, Mitcham, Wimbledon, Hampstead, Battersea, Chiswick, Beulah Hill. We apologise for any inconvenience caused.
Connectivity first conked out on December 10, we're told, and the outage is still ongoing.
Team Sky added earlier today that the "location of the fault has now been established and engineers are currently on site" – and just now as the Reg went to press, stated the following:
Engineers are still onsite and are repairing the large number of cables involved. Work remains underway but the problem is unlikely to be resolved this evening.
Tonight, sackloads of punters are still complaining to Sky on Twitter, and emailing El Reg, saying they're struggling to get through to customer services and order Christmas presents online.
No broadband for 24hrs, no customer update - that's really poor service, @SkyHelpTeam

— Marta Rolak (@martarolak) December 11, 2013
Hi @SkyHelpTeam any update on when this will be fixed? I've got a secret Santa prezzie to online shop for! pic.twitter.com/H7vnfBzWa7

— Bea Asprey (@beaasprey) December 11, 2013
Sky Broadband down for hours, customer services refusing to take calls. What is going on @SkyHelpTeam

— Alex Wickham (@WikiGuido) December 11, 2013
Sky, which incidentally installed network-level web-censoring filters last month, could not be reached for immediate comment. ®
Bootnote
The outage was caused by cable thieves.