Dell bundles data mgmt AND flash into 1.2m IOPS flashy array
Flashy upstarts, the big boys are coming for your necks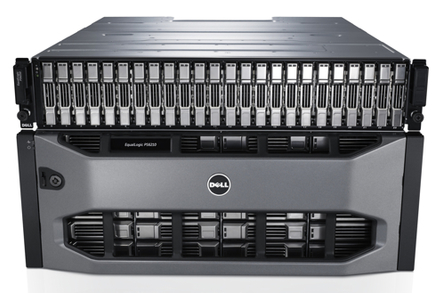 Dell has produced an all-flash array within the EqualLogic environment, thinking customers need existing data management capabilities on top of flash speeds, and not a binary either-or choice.
It has revved up its mid-range iSCSI SAN array with the PS6210, following on from the PS6110, a 64-bit version of the EqualLogic operating system, and prices for an all-flash version below a 15K disk drive version.
Dell storage product director Bob Fine says flash is the number one technology customers want to adopt in storage arrays but cost is a big disincentive. With the PS6210, he says: "We offer flash at remarkably low price points."
Dell's flash array message is that all-flash arrays should be part and parcel of an existing storage array environment, inheriting its management and data management capabilities and not being an isolated outlier requiring separate management and lacking in things like replication and tiering.
This is similar to HP's 3PAR 7450 messaging and puts both Dell and HP at odds with startups like Pure Storage and Violin Memory on the one hand, and mainstream suppliers such as EMC and NetApp. The latter two have elected to have new, ground-up designed flash boxes, thinking that pure performance and deduplication-enabled cost/efficiency – not Violin in this regard – can be traded off against a continuous data management environment.
Deduplication is a missing feature of both HP and Dell's flash arrays, although Dell is introducing it with new NAS gateway products, the FS7610 and FS7600.
The PS6210 has all-flash, hybrid and all-HDD options: six models in all, and according to the marketing bumf the new products "offer increased throughput, up to three times higher performance and four times the memory of prior generations with a faster, more powerful storage controller. New flash-enabled arrays can support 2.4 times the virtual desktops and double the OLTP database workload performance with half the latency of prior-generation [PS6110] arrays."
The PS6210 SSDs are 200GB, 400GB and 800GB mixed-use SanDisk Lightning SLC drives.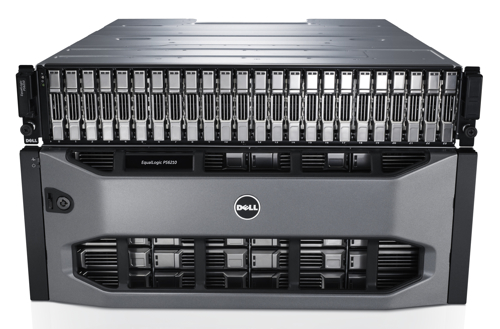 Dell EqualLogic PS6210
Dell says "One EqualLogic PS6210 all-flash array can provide higher performance and capacity compared with four all-15K disk arrays while delivering 64 per cent lower latency, 75 per cent less rack space and 11 per cent lower total cost."
The all-flash version "can achieve more than 1.2 million IOPS with less than two millisecond latency."
The latency is nothing to write home about viewed on its own, and all-new, all-flash arrays will probably trounce that. But – and this is a big "but" – you get a flash boost inside the EqualLogic environment, and that environment is popular.
There are 57,000 EqualLogic customers with around 1,000 new ones being added every month. Some 18 per cent are large enterprises, 37 per cent are mid-size customers and the remainder SMB.
Dell has also carried out a major refresh of its EqualLogic Array Software in v7.0, making it 64-bit and "streamlining … administration with new policy-based access controls and an improved user interface. This works, Dell says, "seamlessly with a 32-bit version for older arrays."
The SAN Headquarters monitoring software gets refreshed to v3.0, and "includes Array Software 7.0 features support and Dell SupportAssist enhancements that improve Dell's customer support with expanded automated support case creation and new case tracking."
Sounds good.
The latest v3.0 Fluid File System (FluidFS) runs on the EqualLogic FS7610/7600 appliance products, and provides policy-based, block-level deduplication and compression, with an up to 48 per cent reduction in data storage. It offers "expanded protocol support and more third-party certifications, growing the ecosystem of industry-specific supported solutions, including leading healthcare picture archiving and communications system (PACS) vendors."
This FluidFS system is available on both Compellent (Fibre Channel SAN) and EqualLogic platforms.
Dell thinks it has a winning appeal with the all-flash PS6210, claiming it's "80 per cent less costly than other flash-optimised solutions." We think this means arrays like an all-flash VNX from EMC.
Both Dell and HP now have serious all-flash array products inside their respective 3PAR and EqualLogic environments. Two questions: will they stop Pure Storage, Violin Memory and other all-flash array startup incursions into the two customer bases; and will they provide a barrier against XtremIO and EF550/FlashRay products from EMC and NetApp?
If they do both, then that says customers are not willing to trade off data management against pure performance – meaning Dell and HP competitors have some work to do.
The EqualLogic PS6210 Series, supporting software, and FS7610/00 with Fluid FS v3 are available worldwide this month. Actual prices were not supplied. ®
Sponsored: From CDO to CEO