Cheap 64-bit Snapdragon hopes to blow Chinese middle class's SoCs off
The rest of the world? Sure, they can have more-affordable 4G LTE smartphones, as well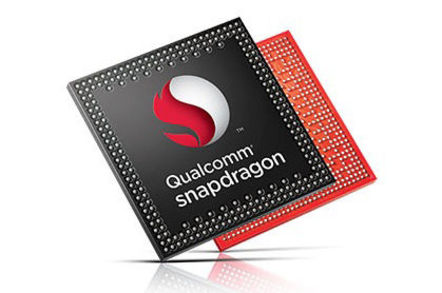 The king-size potential of the Middle Kingdom's rising middle class has lured another tech company to tailor its offerings to the Chinese market: Qualcomm has announced a low-cost, 64-bit version of its Snapdragon processor targeted squarely at the PRC.
"The delivery of faster connections is important to the growth and adoption of smartphones in emerging regions, and Qualcomm Snapdragon chipsets are poised to address the needs of consumers as 4G LTE begins to ramp in China," the company said when announcing its new Snapdragon 410 ARM-compatible chipset.
The system-on-chips (SoC), which should begin sampling in the first half of next year with products based on it appearing in the second half, include the aforementioned 64-bit ARMv8-compatible processor, Qualcomm's Adreno 306 2D/3D GPU, support for 1080p video playback and a camera with a resolution of up to 13 megapixels, plus Wi-Fi, Bluetooth, FM radio, and NFC.
Navigation capabilities will include support for GPS, Russia's GLONASS, and China's new BeiDou system. BeiDou, by the way, first became operation in an experimental three-satellite first phase – understandably named BeiDou-1 – in 2000. Ten satellites are now in orbit in the the BeiDou-2 system, which came online in 2011, and when the system is fully operational in 2020, 35 satellites will provide global coverage.
Needless to say, adding support for BeiDou into the Snapdragon 410 was a must-have if the mid-range chipset was going to have a chance of snagging a major chunk of the Chinese market.
Integrated into the Snapdragon 410 will be support for 4G LTE and 3G connectivity "for all major modes and frequency bands across the globe," Qualcomm says; dual and triple SIMs will also be supported.
The company also promises support for "all major operating systems, including the Android, Windows Phone and Firefox operating systems." Unsurprisingly, one major fruity OS was not mentioned among the majors.
"We are excited to bring 4G LTE to highly affordable smartphones at a sub $150 (-1,000 RMB) price point with the introduction of the Qualcomm Snapdragon 410 processor," SVP and COO of Qualcomm Technologies, China, Jeff Lorbeck said. He also noted that the 410 will be the first of "many" 64-bit processors with which Qualcomm will target the mobile market.
Interestingly, although Qualcomm's announcement emphasized the Snapdragon 410's 4G LTE World Mode, the only part of that world mentioned in its release was China. We can only expect, however, that its "options for high-volume mobile devices," as Qualcomm put it, will also have an impact among the emerging middle classes in Mumbai, Dakar, and São Paulo. ®