Mandela memorial. Yup, let's SNAP A SELFIE, say grinning Obama, Cameron
GW Bush also joins the selfies at funerals scene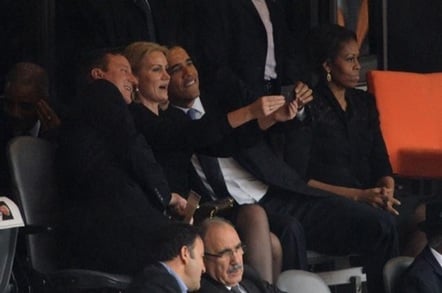 Pic The word "selfie" officially entered the English language this year, but in etiquette terms taking a photo of yourself is still a social minefield.
Many may think doing so at a memorial service is a faux pas, but not for President Obama it seems. Nor UK Prime Minister David Cameron and Denmark's premier Helle Thorning-Schmidt.
"LA" photo du selfie #MandelaMemorial est l'oeuvre de notre photographe #AFP Roberto Schmidt http://t.co/8MLTh3eoBc pic.twitter.com/POxuT95LHP

— Agence France-Presse (@afpfr) December 10, 2013
As the planet's rulers gathered in South Africa to pay their respects to Nelson Mandela, the leader of the Free World took the opportunity to snap a selfie, perhaps using his government-issued smartphone, with Thorning-Schmidt and Cameron. Both men leaned in from the sides to get their grinning heads in the shot.
Judging from the press pictures, snapped by AFP and Getty, the president's wife Michelle was less than impressed at her husband's actions and maintained the solemn demeanor suitable for marking the death of one of the world's greatest statesmen. It has been suggested that she also seemed less than impressed at the amount of time Obama spent chatting to Thorning-Schmidt, and appears later on to have switched seats with her husband, sitting herself next to the Danish political leader.
They were among 80,000 mourners at the occasion, held at the Johannesburg football stadium known as Soccer City, the site of Mandela's first public speech to the nation after his release from prison in 1990. Obama later paid tribute to Mandela, who died last week aged 95, and called him a "giant of history." He noted Mandela's greatest gift was "Ubuntu" – not the open-source software but the Nguni word for kindness in the community.
Obama wasn't the only US president taking part in such shenanigans however. Former prez George W Bush took the time to pose for a shot with U2 frontman Bono, although judging from the angle they got someone else to take the picture for them. The ex-president wasted no time in posting the pic to his Instagram account.
Peeps photographing themselves gurning away at memorial services have for a while now been shamed by the popular Tumblr Selfies at funerals. Given it's largely a blog for tutting, eye-rolling hipsters, it's possible the politicians are trying to broaden their appeal by appearing on the pages – and the blog was quick to add Obama's selfie to its pages. ®