Apple's legal bill for Samsung patent fight tops $60m
And that's after 'substantial discounts' from its BFF outside legal counsel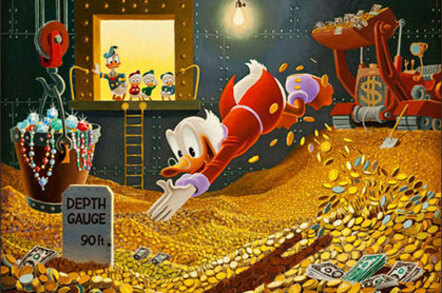 In a court document filed on Thursday, Apple revealed that it has run up over $60m in billings by outside legal counsel in its patent-infringement battle against Samsung, with a goodly chunk of that owed to its lead legal team from the law firm of Morrison & Foerster.
"Under any measure, this was an exceptional case," Apple wrote in the filing – but they don't mean "exceptional" in the sense that the lawsuit was long, drawn out, nitpicky, or painfully fraught with arcane arguments based on cryptic patent claims. They mean "exceptional" in its narrow legal sense.
Apple argues that "Samsung's willful, deliberate, and calculated copying of Apple's iPhone makes this an 'exceptional case'" under the terms of 15 USC § 1117(a)(3) of the Lanham Act, which covers payment of damages, costs, and attorney's fees in such cases.
"The court in exceptional cases may award reasonable attorney fees to the prevailing party," the relevant section of that act reads.
"Given Samsung's blatant disregard of Apple's IP rights," Cook & Co. claim, "Apple should not be forced to bear the full expense of prosecuting its claims."
And what was that full expense? "Apple incurred over $60 million in fees for prosecuting its claims through the two trials, after discounts and reductions," the filing states. The discounts that longtime legal partner Morrison & Foerster granted to Apple are referred to only as "substantial" – the exact amount of the highest hourly fee that the law firm billed Apple is blacked out in the court document.
And what portion of those total fees does Apple want the court to award it? "Apple will move, and hereby does move, for an award of $15,736,992 in attorneys' fees against Samsung Electronics Co., Ltd., Samsung Electronics America, Inc., and Samsung Telecommunications America, Inc."
If that amount seems a bit arbitrary, you're not attuned to the machinations of the legal mind – it's exactly one-third of the $47,210,976 that Morrison & Foerster billed Apple through March 31, 2013, the date that the court issued its last order on motions from the first patent-infringement trial.
Apple argues that courts have awarded similar "or even significantly higher" percentages of fees in similar judgments, and that their request for one-third of Morrison & Foerster's fees is "conservative," "eminently reasonable," and "flows quite naturally from the jury's finding of willful infringement and the legal standard for 'exceptional cases'."
While The Reg withholds its studied opinion on the merits of Apple's claim for legal-fee relief, we do contend that such patent-infringement hostilities do not fall within the common definition of "exceptional", which our copy of the New Oxford American Dictionary defines as "unusual; not typical."
Unfortunately, in recent years such patent tussles have become all too usual, all too typical.
Bootnote
Morrison & Foerster informally refers to itself as "MoFo", a term for which the Urban Dictionary provides an even less-formal definition.