32 Gig Fibre Channel takes another step towards reality
The Black Knight of the network fights on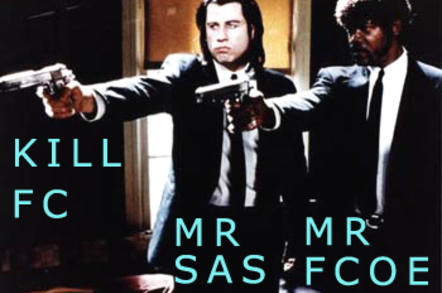 The Fibre Channel Industry Association (FCIA) has announced that a 32 gigabits per second version of the standard is just a little bit closer to reality.
The Association has let it be known that the "INCITS T11 standards committee has recently completed the Fibre Channel Physical Interface - sixth generation (FC-PI-6) industry standard for specifying 32 Gigabit per second (Gbps) Fibre Channel and will forward it to the American National Standards Institute (ANSI) for publication in the first quarter of 2014."
This step doesn't mean 32 gig FC is done and dusted. Indeed, the FCIA calls it "a successful milestone on FCIA's Speed Roadmap for 32 Gbps Fibre Channel". But seeing as FC is not exactly the most-contested standard in the world these days, it's hard to see this piece of work being seriously contested.
While sign-off of the 32 gig version of FC is expected next year, the FCIA thinks it will be 2015 or maybe even 2016 before products reach the market.
Just what it's reception will be by then is anyone's guess. The vendor displaying the most enthusiasm for FC has long been Brocade, but it's wobbled for years and has tried repeatedly to build a stronger Ethernet business to reduce its reliance on FC. Serving legacy FC customers will doubtless be in Brocade's plans whatever fate befalls it, but with Fibre Channel over Ethernet giving users a way to keep their FC cores without necessarily having to worry about upgrades its demise could rob the market of its champion.
Throw in the rise of stack-in-a-box products like Oracle's engineered systems and the Vmware/Cisco/EMC-powered vBlocks and the fact they've collectivley given Infiniband a leg-up and FC's future looks less assured than ever.
The FCIA clearly thinks there's demand for faster FC, with its roadmap (see below) updated in November and suggesting a 64 gig version of the technology will be developed. ®
Fibre Channel Speed Roadmap — FC      
Product Naming
Throughput
(MBps)
Line Rate
(GBaud)
T11 Spec
Technically
Completed
(Years)‡
Market
Availability
(Years)‡
1GFC
200
1.0625
1996
1997
2GFC
400
2.125
2000
2001
4GFC
800
4.25
2003
2005
8GFC
1600
8.5
2006
2008
16GFC
3200
14.025
2009
2011
32GFC
6400
28.05
2013
2015
128GFCp
25600
4x28.05
2014
2015
64GFC
12800
TBD
2016
Market Demand
128GFC
25600
TBD
2019
Market Demand
256GFC
51200
TBD
2022
Market Demand
512GFC
102400
TBD
2025
Market Demand
1TFC
204800
TBD
2028
Market Demand
"FC" used throughout all applications for Fibre Channel infrastructure and devices, including edge and ISL interconnects. Each speed maintains backward compatibility at least two previous generations (I.e., 8GFC backward compatible to 4GFC and 2GFC)
* Line Rate: All "...GFC" speeds listed above are single-lane serial stream I/O's. All "...GFCp" speeds listed above are multi-lane I/Os
‡ Dates: Future dates estimated
Source: FCIA Roadmaps page
Sponsored: Detecting cyber attacks as a small to medium business