Radio amateurs fret over G.fast interference
FM, DAB protected, not ham frequencies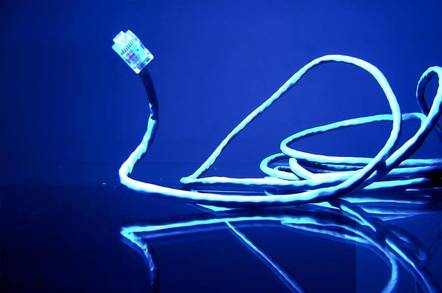 As vendors, carriers, politicians, analysts and advocates of all kind queue to offer their support to the emerging G.fast standard, there's one group watching developments with apprehension: radio amateurs.
Their worry, as outlined by UK interference-watcher forum Interference.org.uk, is that aside from notches for FM radio and Digital Audio Broadcast frequencies, the new fibre-to-the-X standard won't be required to stay away from Ham Radio frequencies.
According to the document on the Interference.org.uk site, the full sampling rate of a top-rate G.fast system would, at 423 MHz, create a sizeable interference footprint.
However, The Register notes that the sampling frequency is something that happens inside the DSLAM: you have to sample an analogue signal at a minimum of twice its baseband frequency.
Making a less-than-crystal-clear attempt to correct the record, the ITU has made this statement: "We want to point out that the highest frequency ever considered for this technology is 212 MHz, with the determined version of the ITU-T G.fast PSD specification being limited to frequencies up to 106 MHz."
In other words, the current spec only uses frequencies below 106 MHz – although higher rates could well emerge in the future, since the advocates of the technology are very keen to push its boundaries. Bell Labs, for example, has this presentation from 2012 which suggests 424 MHz could be considered in the future.
Certainly, enthusiasm will remain for pushing the transmission frequencies higher. As this ITU presentation states, "gigabit G.fast" speeds touted by the technology's advocates are only achievable on loops shorter than 100 metres, with a performance target in the standard of 150 Mbps at 250 metres.
And given that many aspects of the copper now in the ground – long loops, a lack of shielding, unbalanced cable impedance, and corrosion in terminations – make the cables very leaky in interference terms, The Register will watch radio interference arguments with interest. ®