Speaking in Tech: Get an Amazon drone delivered by Amazon drone
Or order drone-shipment of skeet to shoot it down with*...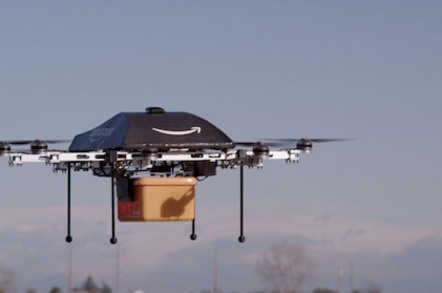 Podcast

Hosted by Greg Knieriemen, Ed Saipetch and Sarah Vela. This week Ed is out on business while Sarah returns with special guest Amy Lewis of Cisco. Greg doesn't buy the whole concept, while Amy plans to use the hover-postie to toilet-paper-bomb Greg's house... Sarah's take? It feels like The Jetsons, and she for one, welcomes our drone overlords.
This week we discuss...
Thanksgiving recovery
Amazon Drones won't fly
Boomerang drones down under
LG Nexus 5 review: Pure Google
Twitter app fail and the wisdom of crowds
Apple snags Topsy
Siri vs Google Now
Amy's photo bloat
Plane talking
The Elan Gale farce
Paleo flyers
The "Influence Diet"
Listen with the Reg player below, or download here.
Podcast Subscriber Links
Subscribe through iTunes
Subscribe through Google
Subscribe through Stitcher
Feed URL for other podcast tools – Juice, Zune, et cetera: http://nekkidtech.libsyn.com/rss
* Or not (see Reg ballistics bureau for why you'd be wasting your time...)