Nextgen rolls 100G, muxes about to 400G
Capacity hits 18 Terabits-per-second thanks to modulated signalling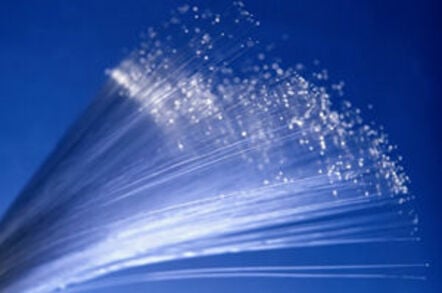 Nextgen Networks is rolling out 100 Gbps as the next upgrade to its network, with plans afoot to kick that along to 400 Gbps as demand rises.
The 400 Gbps capability has already been tested, Nextgen says, as a proof of concept with its supplier Alcatel-Lucent – on a live network, without interrupting customer traffic.
The carrier told journalists yesterday the upgrade has been a long time coming: its last major refresh put a mere 10 Gbps per wavelength on the network. As CTO Phil Martell said, Nextgen – along with other carriers around the world – then suffered something of a roadblock.
At 10 Gbps, he said, optical technology hit its first major hurdle: the original model of "on-off" signalling had very little room left for improvement. In getting "Moore's law" moving again in the optical backbone, customers like Nextgen had to wait for the vendor community to shift to modulated signalling.
Martell pointed out that to those familiar with old-style RF-on-coax multiplexing, the advent of coherent optical technology put them on familiar ground. While "it's not your grandmother's WDM [wavelength division multiplexing – El Reg] network", he said the new technology "is more complex and demanding".
And more flexible: with reconfigurable add-drop-multiplexers going into the network, Martell added, the company will be able to create customer networks with more complex topologies than a simple point-to-point configuration.
When the current 100 Gbps implementation is completed, Nextgen's links will run an aggregate 18 Tbps capacity. The implementation has also involved getting rid of repeater/regeneration equipment that's no longer needed: the network is running un-regenerated on all links including the Adelaide-Perth connections. ®