Eagle steals crocodile-cam, records video selfie
Let's see David Attenborough try this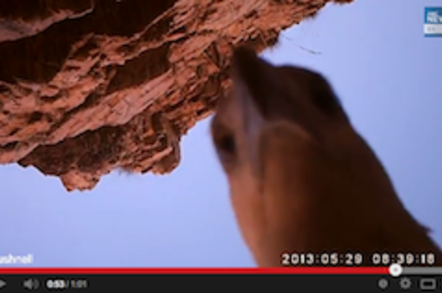 In-flight video A juvenile sea-eagle with (sadly) no cinematographic skills whatever has created what could, regardless, be the selfie of the year, stealing a wildlife camera and taking it for a fly.
The camera was set up near Margaret River* in the Kimberley region of Western Australia in order to capture images of crocodiles.
As Gooniyandi ranger Roneil Skeen told the ABC in WA: "The first footage, it was the sea eagle picking up the camera and taking off with it. Then it triggers the second one when he was up in the air and then putting it down, and then the third one it was the eagle picking at it."
The Australian Broadcasting Corporation has the video on YouTube, here:
The camera was recovered 100 km from where it was stolen, and The Register imagines reps from Bushnell are now booking flights to the Kimberley for an ad campaign. Ever helpful, Vulture South offers this approximate map:
Rangers say the bird was probably a juvenile, as an adult would have destroyed the camera to figure out what makes it tick. ®
*Western Australia has two watercourses named Margaret River. The famous one is in the State's South West and earned its reputation on the back of cracking wines and a beautiful coastline that offers exceptional surf. The Margaret River in this story is in the Kimberley, a remote, wild and beautiful sub-tropical region.
Sponsored: Becoming a Pragmatic Security Leader