Swollen Reg reader recounts FALSE WIDOW spider HORROR
Four days on a drip following foot fang-sinking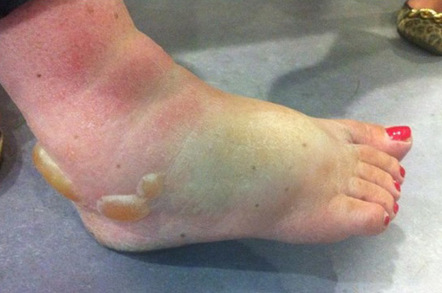 Our report yesterday on the inexorable spread of the false widow spider - an unwelcome immigrant to Blighty's shores which targets guinea pigs and horror-hungry newspaper editors - prompted one Reg reader to protest that the killer arachnid really does pose a threat to those unfortunate enough to cross its path.
Nicola Baker, who is EMEA Alliance marketing manager for Trend Micro, explained: "Was having a party, foot morphed alarmingly during the course of the evening, tried to self-medicate to no avail, ended up in hospital for four days on a drip."
Here's the foot in question, impressively embiggened: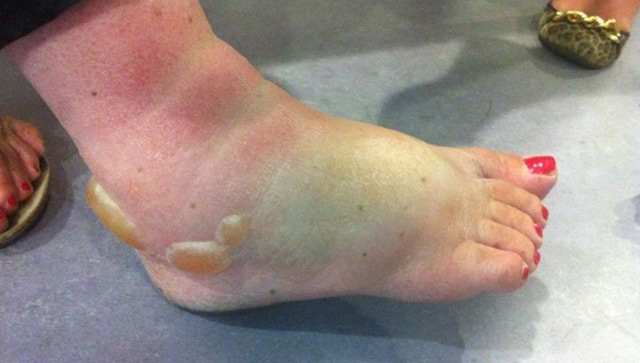 Nicola continued: "Didn't know what bit me, but my daughter later found one of the monsters in a waste paper basket in the house."*
So there you have it. On the upside, Nicola noted that as a result of the vicious attack, she "got out of the washing up which was good".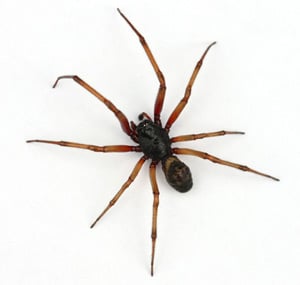 The false widow spider. Pic: Shutterstock
The false widow spider (Steatoda nobilis, pictured right) was accidentally introduced into mainland Britain in crates of fruit from the Canary Islands. The first sighting of the arachnid in Britain was in Torquay in 1879, since when the arachnid has gradually extended its range.
While it's "not usually aggressive towards humans and... being bitten is rare", according to experts, its venom can provoke a disagreeable reaction in some victims.
In October, amateur footballer Steve Harris suffered a similar fate to Nicola's at the fangs of a false widow, and required surgery to slice away his affected flesh. ®
Bootnote
*Doubtless cynical readers will claim this discovery is purely coincidental, and that the attack could equally have been carried out by any number of venomous animals, including rattlesnakes, fattail scorpions, snakes, Mexican beaded lizard, puffer fish, Portuguese Man o' War, blue-ringed octopus, etc, etc.
Sponsored: Practical tips for Office 365 tenant-to-tenant migration