'Schrödinger's Comet' ISON LIVES (or DOESN'T) after Thanksgiving solar roast
But soft, what light through yonder telescope breaks?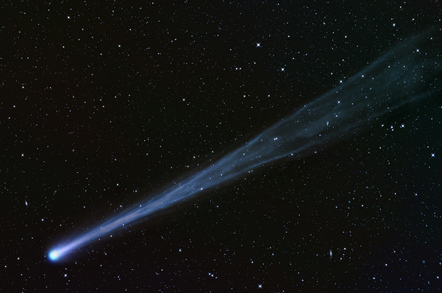 Global mourning for the fiery death of Comet ISON on its nearest pass to the Sun may have been a bit premature, as boffins now reckon that a small part of the space rock could have survived its brush with death.
Keep watching for what may be a debris trail... or the surviving comet
Comet ISON was due to hit its perihelion just 720,000 miles (1.2 million km) from the surface of the Sun yesterday evening and astronomers were unable to spot anything emerging from the other side, leading them to conclude that it had probably not even survived long enough to reach its closest point to the star.
"We didn't see Comet ISON in SDO, so we think it must have broken up and evaporated before it reached perihelion," said Dean Pesnell, Solar Dynamics Observatory scientist, in a canned statement.
But hours later, hope bloomed when astrophysicist Karl Battams posted on the NASA Comet ISON Observing Campaign's blog that the Solar and Heliospheric Observatory's Large Angle and Spectrometric Coronagraph (SOHO/LASCO) had spotted a very faint smudge of dust along the comet's orbit.
"This surprised us a little, but we have seen puffs of dust from sungrazer tails, so it didn't surprise us enormously and didn't change our diagnosis. We watched and waited for that dust trail to fade away. Except it didn't," he said excitedly.
"Now, in the latest LASCO C3 images, we are seeing something beginning to gradually brighten up again. One could almost be forgiven for thinking that there's a comet in the images!"
In a piece humorously titled "Schrödinger's Comet", Battams said he and fellow scientist Matthew Knight were "ripping their hair out" trying to figure out whether the speck was actually ISON or not.
They reckon it's possible that as ISON plunged towards the Sun, it did start to break up, losing its coma and tail completely. But what emerged from the other side was a much-singed smaller chunk that may still have a coherent nucleus, which started emitting dust and gas again when it came out.
"While our theory certainly has holes, right now it does appear that a least some small fraction of ISON has remained in one piece and is actively releasing material," Battams said. "We have no idea how big this nucleus is, if there is indeed one. If there is a nucleus, it is still too soon to tell how long it will survive. If it does survive for more than a few days, it is too soon to tell if the comet will be visible in the night sky. If it is visible in the night sky, it is too soon to say how bright it will be...
"I think you get the picture, yes?"
Of course, amateur skywatchers only want to know if they're going to get the promised lightshow in the night sky in early December or not. Battams was reluctant to commit, but he said that if they were forced to speculate, he and Knight would say that some remnant of ISON should be visible in the coming week or so, but he stressed that was highly speculative.
"This morning we thought it was dying, and hope was lost as it faded from sight. But like an icy phoenix, it has risen from the solar corona and - for a time at least - shines once more," he said. "This has unquestionably been the most extraordinary comet that Matthew and I, and likely many other astronomers, have ever witnessed." ®