Phoenix IT Group blames former CEO and economy for woes
Sales slide continues... still it's nearly Christmas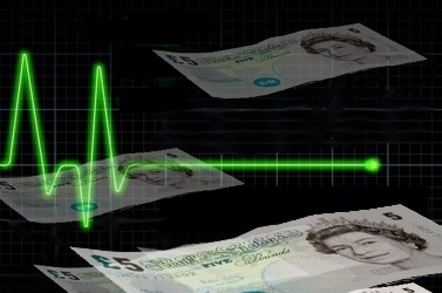 Phoenix IT Group chairman Peter Bertram fingered his former CEO and the fragile economic recovery as reasons why trade remains damp and profits have yet to rebound in a more meaningful way.
At the half way stage of fiscal '14 for the six months to 30 September, the beleaguered LSE-listed firm reported a near six per cent decline in turnover to £116.9m and this is before the impact of losing its Cisco Gold badge is felt.
The Northampton-based tech services house returned to an underlying operating profit of £7.7m compared to a loss of £63.3m a year ago when it took a hit on righting accounting wrongs and chopping the workforce.
But discount £500k for amortisation of intangibles, another £3.4m for non-recurring items related to re-org costs which includes the Mid-Market team, and operating profit was a more modest £3.8m. After finance costs, net profit was £1.2m.
And again this is before the impact of the Cisco debacle - which sources told us was connected to kit registration - will take a toll of profits too, which Phoenix last month confirmed would shrink by £2m as a result.
"The first six months of the financial year have remained challenging for the group," said chairman Bertram in a statement today.
"Difficult trading conditions coupled with the continued impact of legacy issues related to a disruptive reorganisation have negatively affected results in the period," he added.
The restructure by former CEO and industry veteran Dave Courtley, included axing the ICM brand, and integrating service delivery and back office roles across the divisions with the loss of 300 jobs. He bowed out after 15 months in the role.
At the time, Phoenix trumpeted the changes, saying the re-org would give "greater strategic focus" but also "efficiency savings".
Back to the here and now, Phoenix posted declining sales in the Business Continuity and Mid-Market divisions but ironically a rise in the Partner service unit where the lost Cisco revenues may be felt the most.
Business Continuity revenues dipped by £1m to £26.6m and it made an underlying operating profit of £6.6m down from £8m a year ago. A 10 per cent decrease in the order book to £81.4m was due to "larger contracts which are due for renewal in the future rolling off one more of life in the order book", said Phoenix.
The Mid-Market unit - managed, professional and hosting services and product sales directly to end users - was down a whopping 25 per cent to £47.2m. This was due to a fall in low margin professional services contracts and attrition on traditional desktop service annuity deals.
"The new management team continue to improve processes around pricing and combined with a reorganisation and refocus of the sale team, the underlying loss has improved.
The Mid-Market division made an underlying loss of £1.2m albeit better than £2.6m operating in H1 fiscal '13.
The Partner Services business unit pushed up sales by £1.2m to £54.9m but underlying operating profit dropped 36 per cent to £3.7m.
Phoenix said "delayed sales cycles have held back revenue growth", and "contract attrition" hit margins.
"Due to the syndicated nature of some areas of our service delivery cost base, it has been difficult to reduce our costs to match revenue reductions," it said.
Corporate PLC costs came in at £1.4m.
The share price slumped by nearly five per cent this morning, taking the price to 138 pence. The 52-week low of 130 pence came in May ahead of smelly full year preliminary results.
This will not please investors, including Martin Hughes at Tosca Fund - one of the UK's richest hedge fund managers - who sources claimed was calling for the head of Phoenix chairman Betram amid the Cisco Gold Partner issue.
Hughes did not respond to calls for comment. ®
Sponsored: Minds Mastering Machines - Call for papers now open