Barnes & Noble's Nook sales take a long walk off a very short pier
People won't buy the ebooks if they aren't buying the readers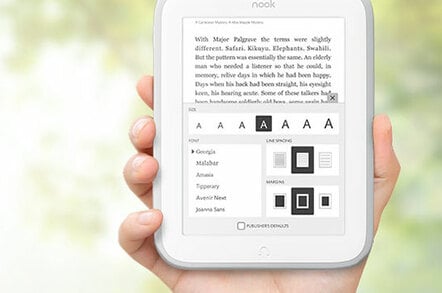 Barnes & Noble's ebook efforts continue to falter, with the company's struggling digital division reporting disappointing revenues as it lurches into what could prove to be a difficult holiday season.
The Nook division reported total revenues of $109m for the second quarter of its fiscal 2014, a 32.2 per cent decrease from the same period a year ago. It was an even worse showing than its first quarter, when its revenues were down 20.2 per cent.
Sales of Nook ebooks, magazines, and newspapers totaled $57m for the three months ending on October 26, which was 21.2 per cent less than the division brought in during last year's second quarter.
At least part of the decline, the company said, was due to lower average sale prices for digital media. Doubtless the guilty verdict leveled against Apple in the recent ebook price fixing scandal had something to do with that.
But slow sales of Nook devices played an even bigger role in the division's slump. Revenues from Nook tablets, e-readers, and accessories were down 41.3 per cent since the year-ago quarter, with sales totaling just $51m.
That's worrying news for B&N, which launched its newest e-ink reading device in October after a series of costly missteps into the color tablet market.
Nook tablets managed to win just 1.9 per cent market share during the 2012 holiday season, while rivals Apple, Samsung, and Amazon each scored in the double digits. B&N finally pulled the plug on its color devices in June, and then-CEO William Lynch was shown the door shortly after.
At the time, newly appointed Nook division CEO Michael Huseby said that B&N was not going to abandon its hardware business, but that in the short term it would concentrate on delivering new e-ink devices (of which the recently launched Nook GlowLight is the first).
Yet B&N faces stiff competition in that category, too, from such rivals as Kobo and Amazon. The latter is rumored to be launching a new Kindle e-ink device with a 300dpi screen soon, which would once again surpass the most recent Nook offering in performance and features.
Still, if the Nook division's future looks bleak, its figures did improve in at least one sense this quarter. Ignoring the effects of interest, taxes, depreciation, and amortization, Nook's losses for Q2 of 2014 actually shrunk by $6.2m compared to the year-ago quarter, which the company attributes to cost-cutting and reduced discounts on its hardware.
In other words, Nook "only" lost $45.2m this quarter on revenues of $108.7m. Call that the bright side, if you will. ®