Fujitsu: Sayonara, London Stock Exchange... You're not worth the money
Set to delist by January to 'reduce administrative work and costs'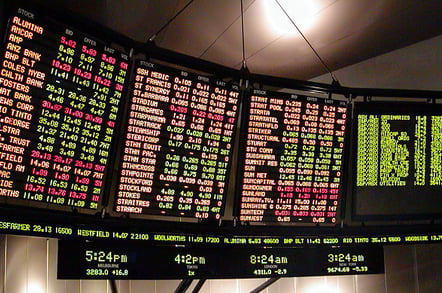 Japanese giant Fujitsu is to yank its shares from the London Stock Exchange in a move that will help it cuts costs and which recognises the shifting sands in global financial markets.
The application to delist common stock and European Depository Receipts* from the Official List of the UK Listing Authority**, as well to cancel trading of shares on on EDR and the main mart of LSE.
"Fujitsu has decided to apply for the delisting in order to reduce the administrative work and costs associated with being a listed company on the LSE," the firm said in a statement.
It added that the low trading volumes taking place on the exchange meant the removal "is not expected to have a material impact on shareholders and investors".
The delisting and cancellation of shares is expected to take place by the end of January. Fujitsu will remain listed on the Tokyo and Nagoya Stock Exchanges.
The listing on LSE began in 1981 when the world was a very different place, said TechMarketView research director Peter Roe.
He pointed out a "sea change in financial markets over the past 30 years... people can now invest in the Japanese market very easily and Fujitsu can access the world's capital markets from Shimbashi [HQ]".
"There is no need from a financing point of view to have a listing on the LSE and it is unlikely to make a difference at all to customers nowadays. The world has moved on," he added. ®
* A receipt issued by a bank in a European country representing stocks traded on a foreign exchange (ie, one that is outside of the country where the bank is situated). ** The record of whether a company's securities are officially listed in the United Kingdom.