False widow spiders in guinea pig slaughter horror
Lock up your pets, warns shaken British mum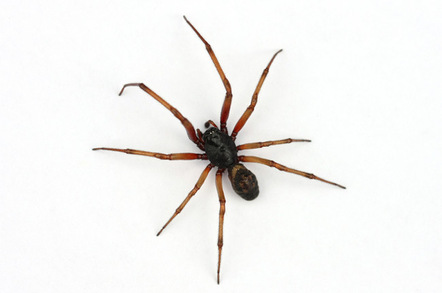 A British mum has warned against the inexorable spread of the false widow spider after the killer arachnid apparently dispatched a trio of her family's guinea pigs to the hereafter.
Michelle Richards, of Hedge End, Hampshire, recounted to the Daily Mail how son Jordan found three of five guinea pigs dead in their hutch, "with six false widow spiders and cobwebs" surrounding the structure.
She said: "Jordan told me they were asleep. He saw mummy upset and I told him what had happened. I am a childminder and we had children over - a lot of kids saw what happened."
She continued: "We don't want this happening to anyone else. We want to make as many people aware of this as possible."
Richards' home "backs onto a primary school", and she now "fears the spiders may have made their way onto its playing field".
However, expert Ian Burgess of the Medical Entomology Centre doesn't reckon the false widows were responsible for the guinea pig slaughter. He told the Mail: "It could only have happened if the guinea pigs attacked the spiders and I cannot imagine a guinea pig attacking anything."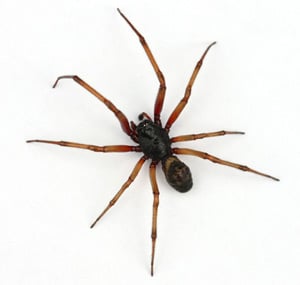 The false widow spider (Steatoda nobilis, pictured right) has spread steadily across mainland Britain since its accidental introduction in crates of fruit from the Canary Islands.
First spotted in Torquay in 1879, it has since scuttled its way along the south coast, and is gradually extending its range northwards.
Experts explained last month to the BBC that Steatoda nobilis is "not usually aggressive towards humans and that being bitten is rare". The Wildlife Trust's Mark Champion noted that in the unlikely event you do get bitten, it'll be "very uncomfortable", but "no stronger than a wasp sting".
While the eight-legged immigrant is not a welcome addition to Blighty's fauna, it has proved extremely friendly towards the press, with horrified mums recounting mass inavasions, shaken dads battling spider pack stalkings, and screaming friends confronting monster arachnids. ®
Sponsored: Practical tips for Office 365 tenant-to-tenant migration