Adorable, much-loved SEAHORSES are VICIOUS SLURPING KILLERS
Magical docile attitude is just a front for expert stalking skills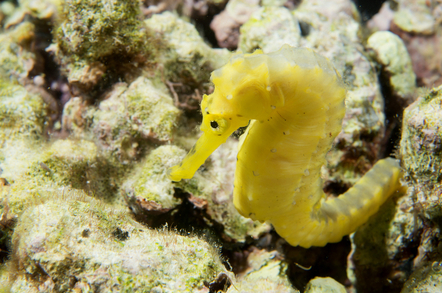 Seahorses may appear to be magical, happy underwater creatures, but they're actually vicious predators, capable of catching even the fleetest of their prey unawares despite the fact that they're terrible swimmers.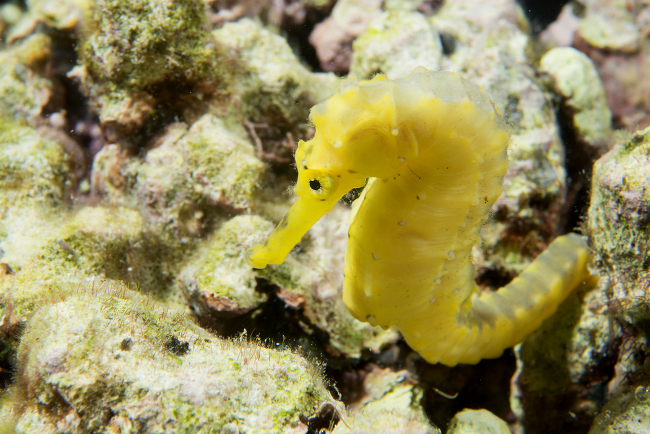 Oh my God! Swim for your lives, it's a yellow female kuda seahorse
Seahorses are slow and awkward in the water, making them seem like docile beasts, but their heads are perfectly shaped for sneaking up on their favourite snack, the fast-moving copepods.
The teeny crustaceans are the top meal for seahorses, pipefish and sea dragons, which all come from the syngnathid family. They typically evade predators by detecting the waves created by their attacks and can jolt away at incredible speeds for their size - over 500 body lengths per second or the equivalent of a six-foot person swimming at 2,000mph (3,218kmph).
Boffins who became interested in how seahorses are able to chow down on copepods 90 per cent of the time they go hunting for them, found that the creatures' heads made them ideal stalkers.
"Seahorses have the capability to overcome the sensory abilities of one of the most talented escape artists in the aquatic world — copepods," said Brad Gemmell, research associate at the University of Texas Marine Science Institute. "People often don't think of seahorses as amazing predators, but they really are."
Gemmell and his colleague Ed Buskey, professor of marine science, studied Hippocampus zosterae, the dwarf seahorse native to the Bahamas and the US. Using high-speed digital 3D holography techniques, they captured the seahorses in action, on the hunt for copepods.
The technique uses a microscope fitted with a laser and a high-speed digital camera to capture the rapid movements of tiny animals in a 3D volume of water, which showed that the seahorse's head has a kind of "no wake zone". To stalk its prey, the seahorse angles its head precisely so that this zone, just above and in front of its nostrils, lines up with its meal and no wave disturbance reaches it. Other animals out for a copepod snack, like the three-spine stickleback, have no such advantage.
"It's like an arms race between predator and prey, and the seahorse has developed a good method for getting close enough so that their striking distance is very short," Gemmell said.
Once the copepod is within range, it doesn't stand a chance. Seahorses use pivot feeding to eat, rapidly rotating their heads up to draw their meal in with suction. That gives it a range of only a millimetre, but the strike happens in less than a millisecond, much faster than the two to three milliseconds the copepod needs to escape.
The full study, "Morphology of seahorse head hydrodynamically aids in capture of evasive prey", was published in Nature Communications. ®