Kobo Arc 10HD: The bookworm's fondleslab?
Android quad-core speed reader – unless you want to read PDFs, that is
Making Collections
As for adding music to the Kobo Arc 10HD Collections, there's nothing in the manual on how you do this, just a claim that you can. I'm guessing it would be online streaming content. Music aside, building up a web pages Collection is achieved simply by using the Add to Collections icon that appears at the end of a URL on the browser. Selecting sections of texts from books for reference in a Collection is easy too: from the menu bar of options that appears you choose Share and from the dozen destinations that show, tap on Add to Collection.
By the way, the "Pocket articles" mentioned above relate to the bundled Pocket app that enables offline viewing of web content, among other things.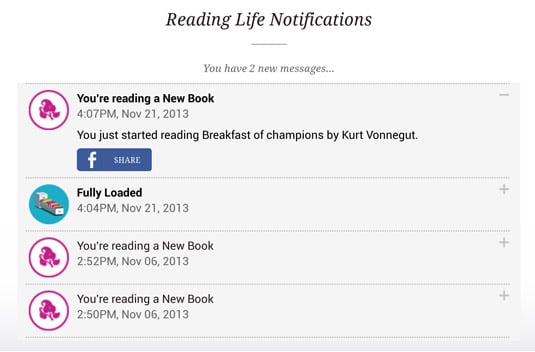 Reading Life Notifications, if you must
Opening a new book will prompt you to announce to all and sundry on Facebook that you've "Started a new book". In turn this will prompt most to look for the Preferences options to turn this off. That's not so easy though. A simple tap at the top of the page reveals a menu bar for Book Contents, Reading Life Notifications, Search in Book and Bookmarking. The Reading Life Notifications record your literary musings and will even congratulate you for reading for extended periods. You'll need to find the Advanced Settings from menu below mentioned below to knock out the Sharing frenzy.
On the page, whilst reading, preferences for all the usual text, transitions and background options can be accessed swiftly with a tap on the faint circle positioned in the bottom right corner. At first glance I thought the page curl transition and sepia page colouring choices were a tad cheesy, but actually grew to like them both. From the Spanner icon, the Advanced settings offer more in-depth customisation and Sharing options.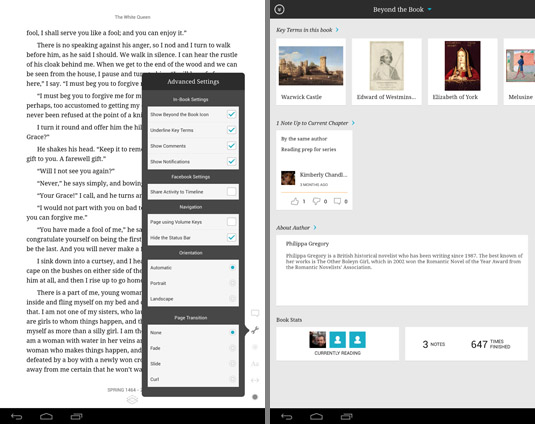 Kobo Advanced Settings and Beyond the Book – click for a larger image
Within the page of books purchased from the Kobo store are tailored links to additional, related content. Called, Beyond the Book, you'll find that, for instance, place names in historical novels will feature link to information and books about those locations enabling another book sale more in-depth research. The links I came across won't take you beyond select clippings from websites and Kobo's own literary offerings – books you've imported from elsewhere don't have this linking feature.
Page-flicking is a simple tap on either side of the screen for back and forth, however, magazine content is a bit more useful in this respect. Reading a multi-column magazine page typically requires zooming in a bit which you can do with a double tap. Rather than dragging the page around to read more, an edge tap scrolls further down the column and when you get to the bottom, the next tap takes you to the top of the adjacent column and so on. Once you've worked out the ground rules, it works quite well.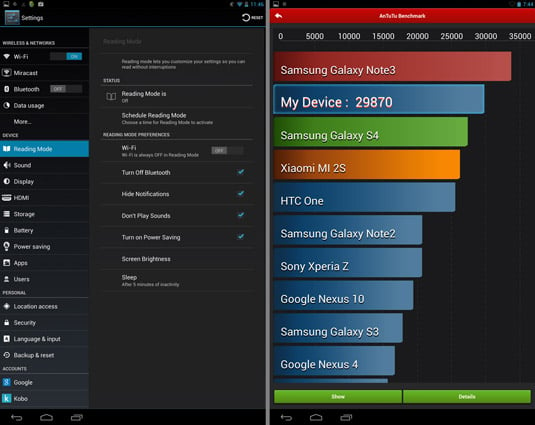 Reading mode and an acceptable AnTuTu score – click for a larger image
These niceties aside, you'll want to pay close attention to the energy saving features – touting a quad-core CPU and a crisp hi-res screen does weigh heavy on the up time. In the Android preferences, the Power Saving section can vary performance and knock out a couple of cores to keep things ticking over, without any obvious impact on reading duties. An additional Reading Mode is tucked away in the Android preferences and can be configured to kill services such as Wi-Fi, Bluetooth and various pop-ups as well as engaging the aforementioned Power Saving functions.
With these tweaks Kobo reckons: "The battery life is extended from 9.5 hours to more than 10 days." I'd say that claim is somewhat academic as I can't see who would bother buying an Android tablet to use it solely as an e-reader. OK, so you take a holiday far from the madding crowd, but you still might be tempted to plumb in the headphones and have some music playing whilst you read or browse some photos and suchlike. For typical Android tablet use, you'll be looking to charge it every day or two and thankfully, Kobo supplies a charger.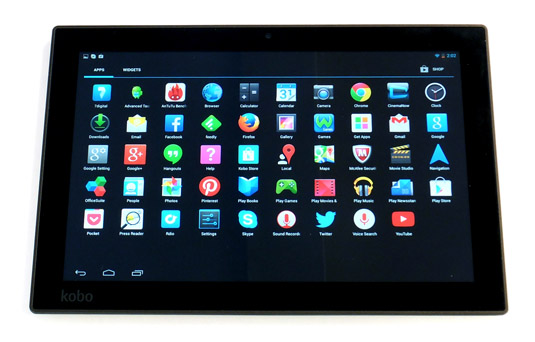 Kobo Arc 10HD: underneath it all, it's still an Android tablet
The Reg Verdict
As hi-res tablets go, Kobo's Arc 10HD is reasonably priced, but as the company's raison d'être is reading, Kobo really should address PDF integration better than it currently does, as it should be part of its main reader application. After all, does Kobo really want folk downloading Amazon's Kindle app just so they can comfortably read the Kobo PDF manual?
The company needs to put a bit more thought into what it offers to combine content rather than offloading this integration onto third-party apps, as Kobo's Tapestries and Reading Life widgets are essentially window dressing for its shop front. Using the Android platform means there's nothing essential missing to view content, but Kobo could make it a lot more joined up with some more focused app development effort of its own. ®
Sponsored: Webcast: Build the next generation of your business in the public cloud

Kobo Arc 10HD: The bookworm's fondleslab?
Quad-core, hi-res, 10-inch Android tablet with 16GB of storage and reader-friendly features.