Kobo Arc 10HD: The bookworm's fondleslab?
Android quad-core speed reader – unless you want to read PDFs, that is
Manual selection
If you've owned rival e-readers, this level of flexibility is certainly handy even if it does mean syncing up to multiple book stores. Still, it's better than going without previous purchase, as DRM content doesn't play nice for transferring between bookstores, if you play by the rules.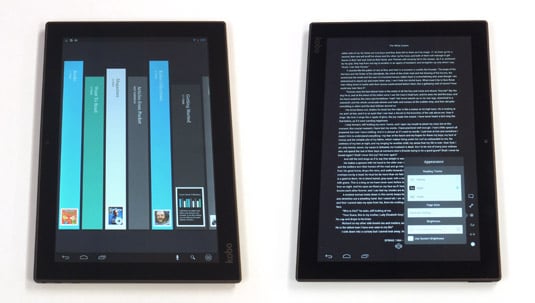 Collections appear like book volumes (left). Night time reading background (right).
No matter how simple a new implementation is sometimes, old habits can get in the way. Indeed, I approached the Arc 10HD with Tapestries from the original Arc still in mind and gazed upon Kobo's main screen with bewilderment. It's a Kobo-specific collection of widgets that, gathered together, create the Reading Life home screen. Apart from some downloaded books and related content, most things pointed to the Store. Er, where was the library, so I could see what was actually on the darned thing?
Swipe from right to left you say. Er, that's easy. And lo, there are the books in the Collections page which makes different groupings appear as spines of volumes on a shelf. These coloured stripes eventually become more interesting, showing thumbnails of the content you add. You can click and drag them around to suit your current interests or study.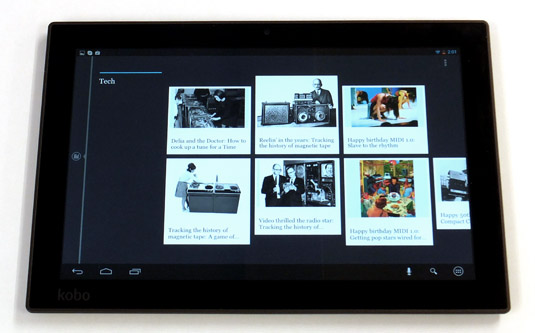 Collection populated with web page favourites
Populating these collections isn't entirely intuitive. Some, like Books and Magazines, are filled up as you acquire content, which is fair enough. The Want to Read option took a while to fathom. I'd assumed you could just add items like a wish list from the Store or elsewhere.
The not-very-useful Getting Started Collection is too busy showing you how pretty things are to tell you anything practical. How about the Help app then? It's a bit of a joke because there's no offline content, all the help is online. Considering that second on the list of Getting Started tips is "How do I connect to Wi-Fi?" Kobo really should be smarter than this.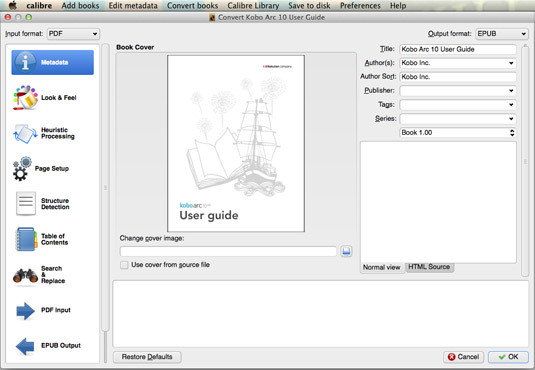 Calibre converts the Kobo PDF manual to ePUB – click for a larger image
Making matters a little worse is the full manual is online too and it's a PDF which, bizarrely, the Kobo software doesn't support. The PDF reading duties are left to the MobiSystems OfficeSuite 7 app. Come Kobo, don't you think users would want to add this reading matter to their Collections? And if you can't support PDFs make a bloody ePUB, it's not exactly difficult nor a unique idea either, just ask Bookeen to show you how it's done. All its Cybook eBook readers have ePUB manuals.
Anyway, sod that, I've done it myself thanks to Calibre's PDF to ePUB conversion function, I just had to decrease the default font size a bit and it looks fine.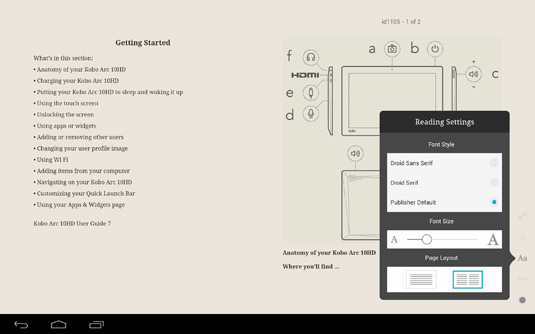 Calibre converted user manual on-screen: now why couldn't Kobo manage that?
Click for a larger image
Now, where was I? Ah yes, page 47 of the Arc 10HD PDF/ePUB user manual.
"You'll find all your books in the Books collection, your magazines in the Magazines collection, previews in the Want to Read collection, and any Pocket articles in the Articles from Pocket collection. If you don't see a Magazines collection, Kobo isn't selling eMagazines in your country yet."
Right, so that's cleared that up then. Book previews, you know the odd teaser chapter end up in the Want to Read section. I kinda guessed that, but you can tell the company is keen on people reading – page bloody 47 to tell you this and why there's no mags in some territories.
On this point, there's no UK magazine content available yet, although I'm told it's due in the "next couple of weeks". This probably explains why the PRs sent out the review sample geared up for the US store, which did mean I could try out the mag reading experience. You can switch territories by changing details in the Kobo desktop app, which also allows book buying and reading.
Sponsored: Webcast: Why you need managed detection and response