Small software firm wins $28.4m after lobbing sueball at Lockheed Martin
Unfair competition: Jury rules firm was shut out of F-16 fighter jet manual market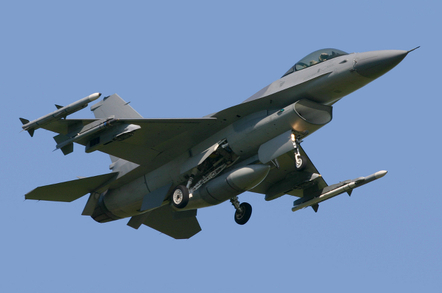 Titchy software company Command Technology has managed to win $24.8m in a settlement from the mighty Lockheed Martin for unfair competition.
In a David-and-Goliath story, Command sued Lockheed after being kept out of work making software for the 4,500 F-16 fighter jets that have been sold to US military and other countries.
A jury in the Circuit Court of Maryland for Montgomery County decided that Lockheed had competed unfairly and had injured Command, according to a verdict sheet seen by Reuters.
Lockheed said it was disappointed with the result.
"We believe that it will not stand after post-trial review by the circuit court or on appeal," spokesman Gordon Johndroe said.
Command developed electronic maintenance manuals for the F-16 jets, which Lockheed then said didn't pass tests for the US Air Force, the company said in its complaint. The jury also found Lockheed to have "tortiously interfered" with Command's "economic relationships".
Lockheed then went on to work with another software firm, InfoTrust Group, to develop its own rival product. InfoTrust is also being sued by Command and has launched its own suit against Lockheed.
Command said that Lockheed was trying to block its product from the F-16 market because Command threatens to topple the giant from its spot as the primary provider of maintenance for the the weapons it builds - a spot that brings in billions of dollars in associated sales.
The small software firm claimed that Lockheed and other weapons-makers were trying to restrict access to technical data for warplanes and other combat systems so they can charge the US Air Force and other military bodies for electronic access to the information.
It accused Lockheed of using its proprietary information, which it handed over to allow testing of its C2Web platform, to build its own platform. Command claimed that in its software, mechanics could choose any parts for a fix, while in the Lockheed system, people could only choose the aerospace giant's spare parts.
The company also claimed that Lockheed, BAE Systems and other suppliers had interfered with its platform and led other potential users to believe that the C2Web system couldn't be used for F-16s. ®
Sponsored: Practical tips for Office 365 tenant-to-tenant migration