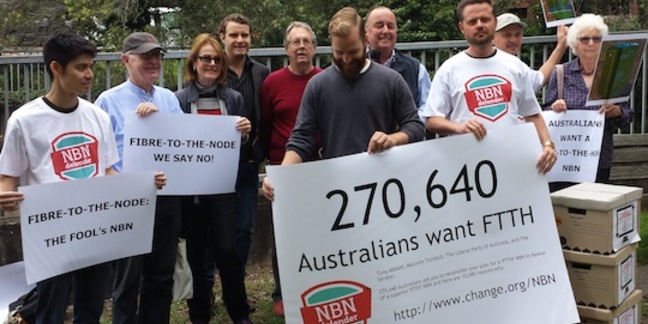 The day of action in support of Australia's National Broadband Network (NBN) has fizzled out, with just 20 people attending an event at the office of communications minister Malcolm Turnbull. Four of the twenty, including your correspondent, were media. One was a baby.
The day of action was called last week, in order to deliver the 270,000-signatures-strong change.org petition calling for the NBN to retain fibre-to-the-premises as its dominant medium.
That online support seems not to have translated into enormous real-world support.
Had more protestors attended, they would likely have been underwhelmed by an event that changed venues at the last minute to a small park across the road from Turnbull's office and which sailed more than 20 minutes past its advertised start time of 11:00 before anything happened.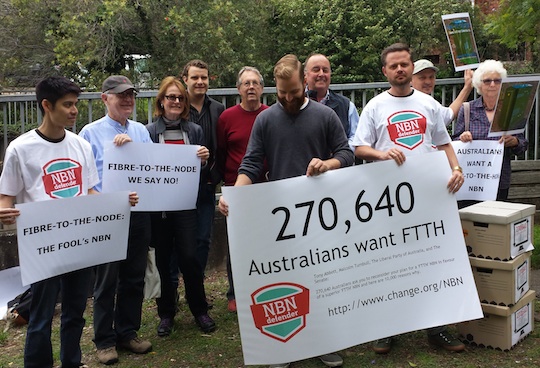 Ten, count 'em, TEN, people protesting at the NBN national day of action
The extra time was occupied, in part, by a debate among participants about what speaker Vlad Lasky should say (it was decided the Murdoch conspiracy theory should go) and a search for rocks with which to weigh down the empty document boxes used to represent the petition.
Rocks were eventually found amid the park's stone fences (it's not just the copper that's crumbling in Australia!), protestors were arranged behind signs and Lasky delivered a speech talking up the need for Australia to metamorphosise from a resources-based economy into a digital butterfly. Most of Lasky's points have been enunciated many times before, but he did offer a Russian proverb - "I am not so wealthy that I can afford to buy cheap things" - as one reason he feels a FTTP build is important.
He then labelled the government's planned fibre-to-the-node (FTTN) build a "red rattler NBN", invoking a retired generation of Sydney commuter trains that earned the name thanks to their oxblood hue and unreliable performance. Lasky said the metaphor is also apt because red is the colour of copper. Vulture south always thought it's orange.
There was also some tepid character assassination of NBNCo Executive Chair Ziggy Switkowski, whom he deemed insufficiently visionary based on decade-old comments about likely future internet uptake, plus familiar and highly-contested arguments about the state of the current copper network.
Protestors to whom The Reg spoke said they showed up because they felt FTTN would impose ugly cabinets on the genteel streets of Turnbull's electorate. Others expressed an opinion that FTTN is a half-measure that will retard economic development and is and therefore unwelcome.
The event concluded when Lasky handed over a CD-ROM to a Turnbull staffer, who accepted it politely but non-committally. No-one had thought to check if Turnbull was present before the event and at least one protestor sardonically relayed the news that the minister was "in Canberra".
Once the handover depicted below took place, the crowd drifted away.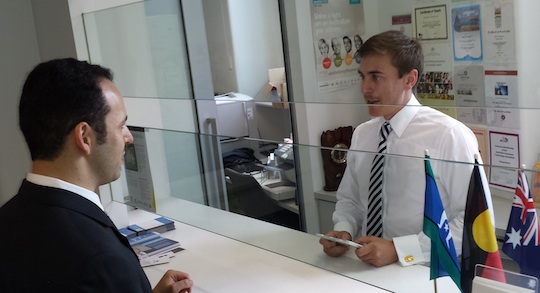 Vlad Lasky handing the 270,000-strong change.org petition to a staffer in Malcolm Turnbull's office.
Online reaction to the event has been interesting. Responses to your correspondent's live Tweets of the event, many of which were not entirely complementary, suggest that its timing was flawed – people could have come on a weekend – and that other pro-NBN groups have tried to form a united front with the petitioners but have been rebuffed.
That state of affairs gave the event a rather Life of Brian vibe. The People's NBN front wasn't very organised and hadn't told the Popular NBN Front what they were up to. Both agree FTTP would deliver the best possible NBN. Neither can quite agree on why, and internal argument was not far from the surface.
Even The Reg can only be in one place at a time and we only attended one of many planned petition deliver events, so perhaps other Day of Action events were better-attended-or-organised. The group's Facebook page suggests not.
Overall, the one we did attend was more than a little disorganised. Attendance was at the low end of the ten to forty Lasky predicted.
Your correspondent was left with the feeling the day may prove a watershed moment, but not for the pro-FTTP cause. Instead, those who feel online activism – slacktivism, if you will - is shallow and unrepresentative may just have found their moment to celebrate. ®
Sponsored: Ransomware has gone nuclear