Stretchy capacitive sheaths coming to protect your pay-by-bonk mobe
The race to weave elastic superconductive fibres has begun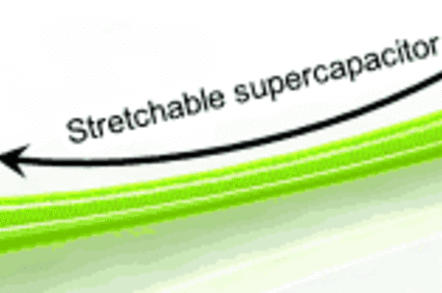 Researchers in the USA and China are vying for the honour of being first off the block with a fibre-shaped supercapacitor built from carbon nanotubes.
Over at Wiley, China is touting a stretchable nanotube-based supercapacitor, while a spookily similar-sounding structure was also boasted by the University of Delaware at the start of November.
If you can make it small enough, the fibre-based supercapacitor would be hugely useful for proponents of wearable electronics, since it's both stretchable and flexible – just perfect to be slotted into the weave of garments.
The UD development "a Spandex fiber as the substrate, a polyvinyl alcohol-sulfuric acid gel as the solid electrolyte, and carbon nanotube (CNT) fibers as the active electrodes."
Which sounds rather like the work led by Huisheng Peng at Fudan University. It uses an unspecified elastic fibre as the core of the supercapacitor. The capacitor is then built out of a layer of electrolyte gel, a layer of carbon nanotubes, a second gel layer, a "wrap" of nanotubes, and a final gel layer.

China's stretchable supercapacitor - regrettably without a scale
Neither innovation is quite ready to be made into protective sheath, but both research groups say that previous stretchable supercapacitors have been in planar structures, which aren't so useful for the wearable market.
Previous fibre-based capacitors have been flexible but not stretchable, the Chinese researchers claim in this media http://www.nanowerk.com/nanotechnology_news/newsid=33402.php release over at Nanowerk. The Chinese researchers envisage their nanotube capacitors as being most useful to provide power for SRAM in wearable electronics (rather than being a primary power source).
The University of Delaware group claims its supercapacitor is good for 10,000 charge/discharge cycles under "100 per cent" tensile strain. ®