LSI's less-explosive Nytro: Smaller bangs for hyperscale DCs
Cheaper flash and less of it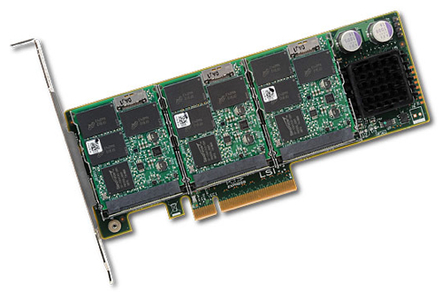 LSI has produced a cost- and power draw-reduced server flash card product line for hyperscale data centres.
The XP6200 line features two products: the XP6209 at 1TB (930GB usable) and XP6210 at 2TB (1.86TB usable), both using MLC flash instead of the costlier enterprise-class eMLC NAND. Both are 8-lane PCIe v2.0 cards, the 6209 being half-height, half-length, and the 6210 being full-height and half length.
They use LSI's SandForce controllers, but not the latest 3700 line. Naturally they are generally not as fast or have as much bandwidth as LSI's Nytro WarpDrive line.
The XP6209 does:
155,000 8K random read IOPS
110,000 8K random write IOPS
2GB/sec sequential reads
1.27GB/sec sequential writes
The large XP6210 has the same bandwidth numbers but does 185,000 8K Random read IOPS and 120,000 8K random write IOPS. The latency in both cases is less than 50 microsecs.
A 3.2TB Nytro WarpDrive does 272,000 4K random read IOPS, 69,000 random write ones - score 1 to the XP6200s - and has 4GB/sec/2.5GB/sec sequential read and write bandwidth.
Both the XP6200 products use up to 30 per cent less electricity than LSI's eMLC flash cards.
Fusion-io's IoScale cards are also built for hyperscale data centres and the 825GB model performs like this:
130,000 4K random read IOPS
235,000 8K random write IOPS
1.4GB/sec sequential reads
1.1GB/sec sequential writes
The latencies are 77 microsecs for reading and 19 microsecs for writing.
The LSI XP6200 cards stack up well against Fusion-io, being optimised for data reading, and LSI makes the point fewer host CPU resources are used by its cards than ones like the ioSCale products. There are several suppliers competing for the hyperscale data centre server acceleration market and, from this hack's limited viewpoint, no clear winner.
Another point to note is that the size and growth of the hyperscale data centre market is unclear, and that deriving market size and value numbers for the server flash card acceleration part of it will be chockfull of guesstimates. Good luck to all the suppliers.
The Nytro XP6209 card, priced at $2,899 ($2.83/GB), is currently available but the XP6210 is expected in December 2013, when it will cost $4,999 ($2.44/GB). Volume pricing discounts will apply. ®