Flash stash on toppa platta: WD's tasty Black² 1TB combo for LAPTOPS
Sort out your laptop like it's a PC, play Crysis, etc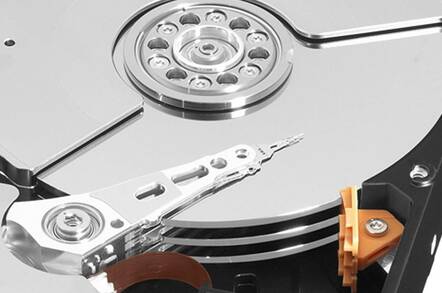 WD hopes to whet the appetites of laptop owners and serious gamers who have the need for speed AND capacity: it has launched a 1TB Black spinning disk drive with a 120GB SSD stuffed inside its case.
The Black2 has a notebook 2.5-inch disk drive form factor, with a 9.5mm z-height and will bring joy and delight to Windows notebook owners who find their laptop to be a little on the sluggish side. Feed it some Black2 and the rejuvenated beast should zoom along like a MacBook Air-class machine.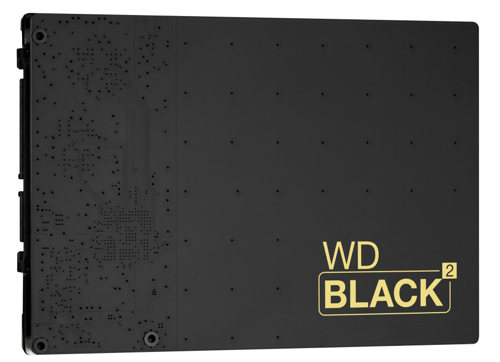 Apple notebooks are not supported, this being a Windows-only upgrade option for notebooks, small form-factor PCs with a single drive slot, and enthusiast/gaming PCs. This drive probably signals the start of a running down of the Velociraptor line for these users.
Ironically, the setup resembles the iMac's Fusion drive, where there are separate disk and flash drives which the system presents as a single drive. Windows XP, Windows Vista, Windows 7 and Windows 8.1 versions are supported. It is said to be Windows 8-compatible.
In the case of the Black2, Windows presents it as two drives, unlike the hybrid disk drives we are seeing where there is a relatively small stash of flash used as a cache – Seagate's Momentus XT, for example, and Toshiba's MQ01ABFH.
WD SVP Matt Ruttledge, who runs the Storage Technology business unit, said" "Our customers told us they like our Solid State Hybrid Drive technology, but our tech-savvy users asked for more control of where they store their data."
The SSD uses 20nm NAND. The Windows OS and applications can be put on the SSD so that boot, application load and app execution can all be speeded up. Large files can also be migrated to the SSD to speed up data access to them. WD points out that the spinning disk can be used as a backup for the SSD although it's generally a better idea to have your backup separate from the host system.
WD's Black2 has a 6Gbit/s SATA interface and comes as a full upgrade kit including:
Software (USB Web Key),
USB 3.0 to SATA adaptor cable,
Quick Install guide,
Warranty guide,
Acronis True Image WD Edition is available for data cloning.
A USB key (stick) is included in the kit. You plug it into the host machine to get the WD Software downloaded, the product download page automatically comes up. The software is downloaded and installed to activate the drive.
There some caveats. Be aware that:
A partition may not span across the SSD to the HDD.
Some physical 2.5-inch bays will not fit the drive (mounting tabs).
OEM recovery partitions generated at factory by computer manufacturers cannot be replicated.
When drive security is enabled, only the SSD portion is considered secure (ATA/BIOS lock).
Drive can't be used in RAID environments including Storage Spaces.
Nvidia storage drivers are not supported and the software won't install.
The ASMedia controller chipset cannot detect the drive. It's out of spec.
The product has a five-year warranty and its MSRP is £249.99. It's available at wdstore.co.uk and Etailers like Amazon. WD says additional information about WD Black2 dual drives and the limited warranty terms may be found on the company's website. ®
Sponsored: Detecting cyber attacks as a small to medium business