Australia's Silicon Beach is a wipeout
Vulture South ventures into startup-land, via Turnbull-land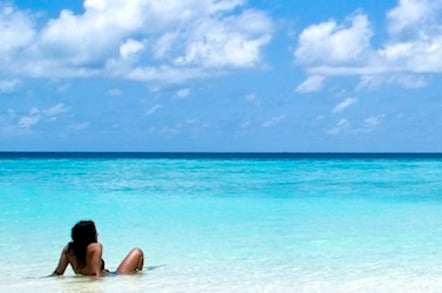 "If only Australia were more like Silicon Valley," the entrepreneuriat declaims: "Our startups would be more like theirs, and we'd have home-grown Googles or Apples!" I've heard this for years, and I'm uncomfortable with it.
It's not hard to find these sentiments: posts like this one by Freelancer.com founder Matt Barrie deliver it whole. In the post you'll find the standard calls for tax reform to make Australia more startup-friendly, pleas to venture capitalists to wake up to tech startups and a wishlist of policy changes to make innovation and industry policy startup-centric. Educational institutions are asked to improve their ability to commercialise research, become better producers of skilled technologists and foster more restless and talented entrepreneurs.
They're all expected to stay at home, or at least have the chance to stay at home, once things are set to rights.
This agenda has been imbibed by many, and the startup agenda and uncritical profiles of startups are hardy perennials of the Australian technology media landscape.
Startups aren't unworthy of the attention they receive, but often get more than their achievements – and the achievements of the sector – deserve. Australians invented some parts of WiFi, but the company founded to commercialised the work never became a household name. It was called Radiata, for the record, and scarcely attracted any attention until acquired by Cisco.
I argue that Australia's impressive cohort of services and enterprise software outfits is just as deserving. The entrepreneurs behind a 200-person services company or 500-strong software outfit are prima facie just as worthy of attention as a successful startup's founders. *
They don't get that attention because the things they do are dull and they've not walked the startup path. An example: consider coverage of Atlassian, whose initial enterprise Wiki products had Web 2.0 sex appeal and whose success made its founders celebrity entrepreneurs. However, its current software development tools are niche fare and attract almost zero press attention.
Into the narrative void created by Australia's dull-but-worthy tech sector ooze the startups, which offer novelty and give Australia's technology community the chance to cheer our very own underdogs. When startups succeed, IT's own version of the hero's journey plays out as commoners dare to challenge the mighty, endure symbolic banishment to the garage and emerge triumphant with title ("Entrepreneur"), influence and booty.
Are the resulting feel-good moments worthy of an economy terraformed to mimic that of Silicon Valley?
Others feel not, because there's more than one way to skin this cat.
When Harper Reed and Rayid Ghani, respectively chief technology officer and chief data scientist from Obama for America 2012 visited Australia earlier this year, they said wherever they go "there are always one or two people who say we want to create 'The Silicon Valley of [insert place name]."
In Chicago, Reed said, "we make interesting companies and real businesses. It's not social networks for cats. These businesses don't talk about themselves and they just go forward."
"In New York City they have their own way of doing things. Every city and every region should do its own thing. If you want to do a Silicon Valley company do it there."
It's easy for Ghani and Reed to say that in part because working outside Silicon Valley doesn't mean working outside the USA's taxation laws. No matter where you are in the USA those rules are better than Australia's (but also result in a vastly more inequitable society).
Yet the pair's sentiments stayed with me, so when I visited San Francisco last August for VMworld 2013, I sought out some real, live, Silicon Valley venture capitalists at the parties they throw to publicise their funded companies and build their eventual IPO price. I asked them what prospects Australia has, in their opinion, of replicating Silicon Valley's success by adopting the startup agenda.
Long story short: zero multiplied by the cube-root of zero.
One of the VCs I met, who represented an enterprise vendor's fund, was intimately familiar with Australia. And when I say intimately he said he knows people at NICTA and CSIRO and is in regular contact with both. I mentioned neither organisation before he volunteered their names.
Both outfits are source of interesting innovation, he said, but not so interesting he would fund their ideas because Australia's remoteness means few local entrepreneurs are familiar with the way stuff gets done in the USA and fewer still have done it already.
Those are black marks he can't ignore - even though at least one name associated with NICTA, Dr David Skellern, certainly knows "the way stuff gets done in the USA", having founded Radiata and sold it to Cisco.
Another VC told me that his problem with Australia as a source of innovation is that the nation does not have that many large organisations willing to buy enterprise products from startups. That creates two issues, the first of which is that an enterprise startup can't generate much revenue in Australia, or point to the likelihood of it arriving, which means US investors won't be impressed. The second is that few Australian enterprises have any recognition in the US. Beyond the likes of Telstra, local clients don't impress overseas those who control the cashflow.
A third VC repeated Reed and Ghani's sentiments, saying there's only one Silicon Valley and that trying to mimic it is folly. This VC also said innovation centres beyond the Valley know they'll be pitching for lesser sums of money from funders who probably don't have the deep pockets needed to throw a VMworld party (the cheese, in particular, was excellent and wouldn't have been cheap). They find different ways to shine.
What does that mean for the startup agenda? I'm now inclined to feel it is calling for the right things, partly for the wrong reasons.
Australia's not the easiest place in the world to start a business, even if some** say it's just hard enough to temper the strong ones. Some tweaks to our business environment are necessary, as is nearly always the case.
But those changes should not be undertaken in the name of creating a silicon anything.
Australia's clearly not as good at fostering innovative technology business as some other nations. To get better, a primary act of innovation might just be developing a better model of what we want to be and how we can get there, rather than the current agenda of attempting to replicate a model that works very well in a few places and which other successful innovators are already routing around.
To be fair, many in Australia's startup ecosystem are doing very good work, but when I hear from or read about them, the core startup agenda remains in place.
Even Communications Minister Malcolm Turnbull voices tunes from the startup songbook, although he's also increasingly pragmatic. In this interview at BRW, he opines that Australia is such a grand place to live that local entrepreneurs don't feel the effort to crack Silicon Valley is worth it.
In this article on his own site he bemoans the availability of capital in Australia, but also notes that Israel's startup success is derived in part from the nation living on the edge, which makes high-risk ventures more palatable. Australia's fortunate not to have that national climate.
For those who want high risk and travel, the opportunity is there. But there's a price to going down that road: Ghani said he's glad not to work in the Valley because he generally gets home before his kids go to bed. He also feels that in Chicago he's not caught up Valley fads. "There are more important things to do than optimising ads," he said.
And Australia, I suggest, has more important things to do than optimising its economy to resemble that of Silicon Valley. ®
* I'd love to write about them more often, but know my time is more wisely invested in other fare you'll actually read.
** I'm thinking of Brad Sugars, founder of ActionCoach, an organisation that pairs new businesses with professional mentors. Sugars started in Brisbane and now has thousands of franchisees around the world. I've often heard him say if you can make it in Australia, you can make it anywhere. ®
Sponsored: Your Guide to Becoming Truly Data-Driven with Unrivalled Data Analytics Performance