Ignore the gigantic assets write-off, Universal Credit IT 'is working' – UK.gov
One-dole-to-rule-them-all trundles along to Inverness and Rugby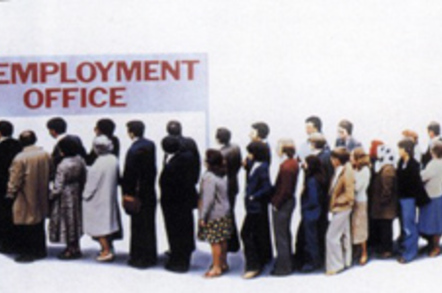 Hundreds of millions of pounds are understood to have been wasted on the government's Universal Credit programme - a huge IT project to cut and shut six benefits schemes into one payment system - but Whitehall insisted today that the tech was working.
The minister for welfare reform Lord Freud claimed:
Most people are claiming it [Universal Credit] online, the IT is working and comprehensive support is in place. We will build on these successes as Universal Credit continues to roll out.
The "most people" the peer is referring to are those single claimants signing on at dole offices in Hammersmith, Greater Manchester and Cheshire.
As of today, Universal Credit has been plonked into job centres in Inverness and Rugby. And the Department for Work and Pensions added that by spring 2014, the system will be deployed in Harrogate, Bath and Shotton.
Secretary of State Iain Duncan Smith's department said that 6,000 new computers would be installed in dole offices across the country so that claimants can apply for jobs online.
A recent Office for National Statistics report found that roughly 7 million people - comprising mainly the elderly, disabled and poor - in the UK had never accessed the internet.
Earlier this month, MPs on the Public Accounts Committee attacked the botched implementation of a one-dole-to-rule-them all service for Brits after it was revealed that the DWP was writing off at least £140m in IT assets.
The crisis-hit Universal Credit system is expected to cost the public purse £2.4bn up to April 2023 - with spending capped at £2bn until the end of the current Parliament.
The Register has heard from insiders who worked on the project who told us that the implementation, to date, had been pathetic.
One source told us that the Government Digital Service - which re-branded Directgov to GOV.UK - had insisted that the DWP use its now-delayed identity programme instead of the method for which the department had originally budgeted, which in turn had crippled that part of the system.
When quizzed about safeguards that had been put in place to prevent fraud within the system, Tory MP and employment minister Esther McVey told Parliament on 18 November:
Fraud prevention is a key design principle for the universal credit pathfinder and a number of steps have been built into the business process to deliver this. All new universal credit claims are subject to identity verification at face to face interviews at the outset and claimants are required to produce documentation to verify their circumstances. There is then a further scrutiny of claims using a rule-based data matching service that directs the requirement for any additional documentary evidence or specialist attention where indicated.

Once in payment all claims are regularly checked for the potential for heightened risk based on unreported changes and new information being available, and referred for specialist intervention where required.
Are you a single claimant seeking benefits in any of the job centres the DWP has now rolled out Universal Credit to? If yes, tell the author of this story about your experience of the system. Naturally, we'll always happy to hear from IT bods who are specifically working on the project. Is Duncan Smith right? Are things now improving, or is that just ministerial denial mode? ®