Gold meddler: Doctor Who is 50 years old TODAY
Half a century of banging around the universe in an old blue box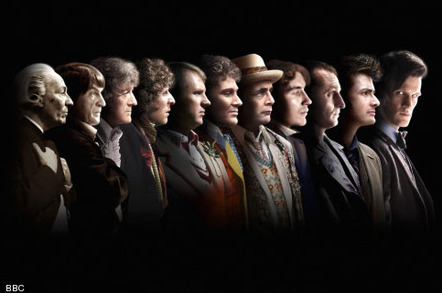 Doctor Who @ 50 Doctor Who, the longest running sci-fi show on telly, is 50 years old TODAY.
The very first episode was broadcast just after a quarter past five on 23 November, 1963 - years before a fair few Reg readers were thought of let alone thrust a-wailing into the world.
It hasn't been a continuous run. What fans now call the Classic series ran almost continually, year after year, series after series, until 1989. A long break following the show's cancellation came to an end with the US-made TV movie – great Doctor, terrible programme - followed by a second, which was all we had to tide us over until the show's revival in 2005.
Russell T Davies' new series showed you just can't produce good Doctor Who outside of this green and pleasant land, and the show has been a hit ever since, bringing us, thus far, four new Doctors, more than half-a-dozen new companions and fresh monsters. A number of old, familiar faces have come back too.
And it shows no sign of abating. Today's 50th anniversary features a broadcast tonight at 7.50pm of Day of the Doctor, a feature-length special. It's being shown in 3D, and streamed to the big screen at cinemas around the world.
If you haven't already, you can still catch the short prequel, Night of the Doctor, which neatly ties in the Eighth Doctor into tonight's episode.
This month The Register has been celebrating the anniversary of Doctor Who with a full series of features. What better way to spent the time while you're waiting for the start of Day of the Doctor than to give them a read:
The Mythology of Doctor Who
The Production of Doctor Who
The Data of Doctor Who
The Science of Doctor Who
The Culture of Doctor Who
The Very Best of Doctor Who
Sponsored: Detecting cyber attacks as a small to medium business