XBOX ONE and PS4, you'll make us RUN OUT of INTERNET
The internet is finite, warn Blue Coat killjoys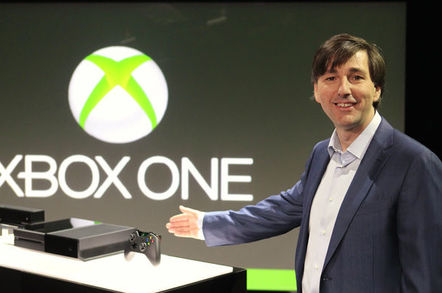 Web puritans Blue Coat are predicting that the end of internet days because of the release of Xbox One and rival PlayStation 4 gaming consoles.
That's the stark message from a preposterous article - titled Will Xbox One and PS4 finally break the internet? - that reached our inbox on Friday morning. This had nothing to do with the Xbox One site going titsup on Thursday night, apparently as a result of DNS problems that also temporarily affected other Microsoft Azure cloud-based services.
No, we're talking about something related to something much more alarming - monster patch downloads.
Today, some of us will be lucky enough to play on Microsoft's latest gaming console, the Xbox One. But will next generation gaming, which focuses on online gaming and streaming, bring the end of internet as it is today?

The internet is finite and all users of PS4 and Xbox One must download "Day One" patches of 500 MB to operate the machine from Sony and Microsoft servers. As it happened with the release of iOS 7, extra traffic on the network will affect the online experience of gamers and non-gamers.

Blue Coat, a global provider of IT security and network technology, reveals traffic towards the Playstation website quadrupled in the three days after the launch of the PS4 in the USA compared to the three days prior. This data comes from Blue Coat's customers, some of whom are the UK and world's biggest network providers.
Blue Coat, which sells security appliances that handle web content filtering, has a huge vested interest in talking up the threat of impending network doom. Its warning are far from restricted to the gaming arena. It's also a prophet of doom when it comes to football's World Cup.
Just before the last tournament in South Africa, Nigel Hawthorn, then EMEA VP of marketing Blue Coat, predicted: "Networks will fail because of World Cup streaming". Hawthorn (who we've known for years since his 3Com days and has a healthy sense of humour) offered to eat his replica shirt if he was wrong.
After the World Cup we challenged Hawthorn with a report from Arbor Networks saying there were no major problems. He responded at the time that there were problems, but they weren't apparent. "It's great for the backbone people to say how well they did, but many of the problems we've seen were at the outer edges of the network - the broadcasters themselves or (more often) the corporate and consumer Wi-Fi networks," he told us at the time.
Every World Cup and major sporting event since France '98, if not before, has come accompanied by dire predictions of networking doom and none (to the best of out knowledge) have come to pass. Blue Coat is not alone in such network doomsaying, although it is among the most persistent and vocal. The reasons are not hard to guess: Blue Coat is talking up the supposed seriousness of a problem that its technology is designed to mitigate.
Blue Coat started out as a provider of web security, URL-blocking and WAN optimisation products.
The deep packet inspection capabilities of its products have proved to be of interest well beyond the business world to ISPs and government in countries with questionable records on human rights, including Syria, Bahrain, Burma (Myanmar), China, Saudi Arabia, and Venezuela.
Use of Blue Coat's censorware technology within these countries prompted campaign group Reporters Without Borders to categorise Blue Coat as one of five "Corporate Enemies of the Internet" back in March. ®
Sponsored: Your Guide to Becoming Truly Data-Driven with Unrivalled Data Analytics Performance