Those Xbox One first-day glitches: GREEN screens of DEATH, disc crunching
Sony fanbois rejoice, Redmondites ponder: Abort, retry or fail?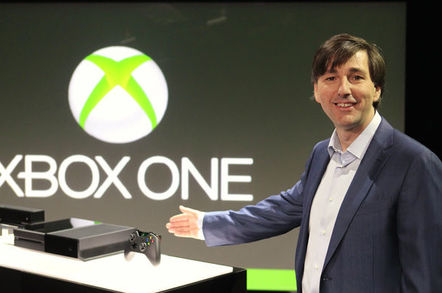 As inevitably happens when a new piece of tech gear goes on sale, some machines suffer malfunctions – and Microsoft's Xbox One games console is no different.
Its support forums are littered with users reporting that their systems are failing to boot up past the initialization screen. Dubbed the "green screen of death", this console freeze-up apparently occurs when the machine is powered up for the first time, and rather than progress to a controller configuration screen, the system remains stuck on the green startup splash.
Some users claim in the Xbox support forums that restarting the system can help alleviate the issue, while others have found that simply waiting for a few minutes brings up the controller screen and the system continues as normal.
Others, however, have already returned their Xbox One units to Microsoft for service or to a retailer to exchange for a replacement unit.
The Redmond tech giant told us in a statement:
If a user is experiencing a stall for more than 10 minutes when connecting to Xbox Live to take the day one update, they should contact Xbox customer support and we will work with them to troubleshoot and get them up and running.
The green screen is not the only issue that seems to be plaguing unlucky new Xbox One owners. Other gamers have reported errors with the system's optical-disc drive failing to read discs or making clicking and crunching sounds when a disc is inserted.
Other reported issues have been slow download times and problems with consoles which have been updated via USB drives.
The glitches raise memories of Microsoft's nightmare Xbox 360 launch in 2005, and the fallout from a set of hardware failures which came to be known as the "Red Ring of Death" and ended up costing Microsoft upwards of $1bn to fix.
Sony, meanwhile, continues to press forward with the launch of its PlayStation 4 console and the reported hardware misfires that surrounded its launch.
A number of PS4 players found themselves with very expensive paperweights after some systems were capable of nothing but flashing a blue light upon starting up. The cause for the issue, now dubbed the "blue light of death" by fanbois, has not been nailed down, but could be from any number of hard drive, firmware or display problems. Sony said just one per cent of sold PS4s were affected, and blamed damage during delivery.
PC gamers, meanwhile, are able to gloat, having found themselves above the fray. Though some may argue that neither the green screen or blue light issues are as frustrating as having to run Windows 8. ®
Sponsored: Webcast: Build the next generation of your business in the public cloud