Sony patents LASER-FIRING Wi-Fi SMARTWIG with sideburn buttons
This is no bald-faced lie, the CHROME DOME is real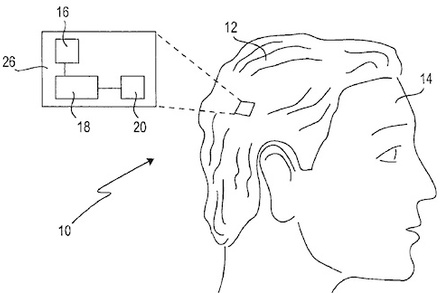 Pic Sony has been granted a patent for something it's pleased to call a "SmartWig".
The device is no mere thought bubble. The patent says: "The proposed wearable computing device has been demonstrated several times in internal meetings of the applicant."
The full description of the device suggests it is a "Wearable computing device, comprising a wig that is adapted to cover at least a part of a head of a user, at least one sensor for providing input data, a processing unit that is coupled to the at least one sensor for processing said input data, and a communication interface that is coupled to the processing unit for communicating with a second computing device. The at least one sensor, the processing unit and the communication interface are arranged in the wig and at least partly covered by the wig in order to be visually hidden during use."
Things get weirder further down in the patent. Here's one of the odder extracts:
"In the embodiment exemplarily shown … one or two switch buttons may be provided under the sideburns of the wig , and the one or more buttons are connected to the external computer via a wireless connection (using the Wi-Fi module). During a presentation the user may, for example, move forward or backward through presentation slides by simply pushing the sideburns. Thus, the user can control the presentation slides simply by natural behavior like touching side burns.
And yes, there is a laser pointer too. Here's why:
"Additionally, the wearable computing device may comprise a laser pointer that is arranged in or on the wig . The laser pointer may, for example, be arranged on a forehead part of the wig, so that the user may point out relevant information on the projected slide in the above-explained presentation mode. Moreover, a mouse pointer (not shown) may be set on the back of the head of the user, so that the user can control the external computer remotely and move around freely."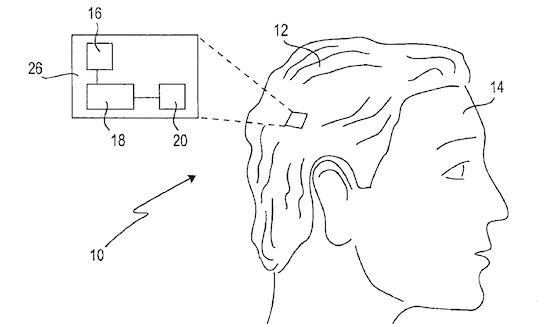 Sony's SmartWig. It's five year mission: To baldly go where no SmartWatch has gone before
Sony's also imagined the device could be used as a "navigation wig" that works alongside a GPS unit to deliver "... tactile signals and/or tactile feedback signals to the user". Those signals would come from actuators or the vibration motors used in mobile phones placed close to the skin.
This being a patent, there's no word on when, or if, this rug will reach the shops. Nor has Sony given it a name, but here in Vulture South we think Chrome Dome fits nicely. Feel free to make your own suggestion for a name, or possible applications for a smart wig, in the comments. ®
Sponsored: How to Process, Wrangle, Analyze and Visualize your Data with Three Complementary Tools