Lead ONTO your pencil: Bill Gates pours cash into graphene condoms
Is there anything the wonder material can't do?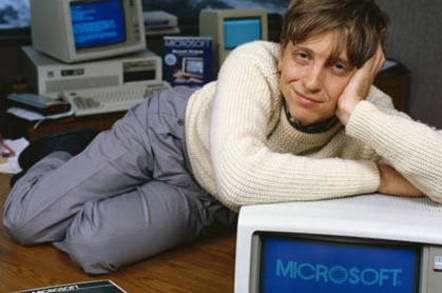 A graphene condom so thin that blokes won't look for excuses to avoid using it is on its way, thanks to Bill Gates.
The Bill and Melinda Gates Foundation has awarded $100,000 to University of Manchester boffins who've proposed making condoms built using the wonder-material, so far earmarked for use in electronics and computing.
The award was made under the Foundation's Grand Challenges in Global Health challenge unveiled in March with $1.1bn in prize money attached.
The University of Manchester team has promised next-generation condoms using new composite nano-materials based on graphene.
It was University of Manchester scientists Andre Geim and Kostya Novoselov who isolated graphene from a block of graphite - used in your pencils - in 2004. The duo bagged a Nobel Prize in 2010 for their efforts.
Graphene has been hailed for being thin - one atom thick - yet amazingly strong – 200 times stronger than steel - while being more conductive than copper.
Its uses are seen as limitless in tech, for making systems that are smaller, more lightweight and more power efficient.
Boffins now propose harnessing graphene's properties – strength and thickness – and marrying them with latex for elasticity.
Aravind Vijayaraghavan said in a statement said this would: "Produce a new material which can be thinner, stronger, more stretchy and safer, and, perhaps most importantly, more pleasurable."
If his project is successful, it'll mean graphene sees more widespread use than in a mere computer. "We might have a use for graphene which will literally touch our every-day life in the most intimate way," Vijayaraghavan said.
The graphene tickler is one of two Gates' Foundation condom prize winners.
The Cambridge Design Partnership was also allocated $100,000 to design a male condom from a composite material: "That will provide a universal fit and is designed to gently tighten during intercourse, enhancing sensation and reliability."
Announcing the challenge in March, the Foundation said: "We are looking for a Next Generation Condom that significantly preserves or enhances pleasure, in order to improve uptake and regular use" to help reduce unplanned pregnancies prevent infection with HIV or other STIs.
The Foundation said of the awards: "Quite simply, condoms save lives but new thinking is needed to ensure that men and women around the world are using them consistently and correctly to prevent unwanted pregnancies and sexually transmitted infections.
"These projects are working to improve uptake and regular use of male and female condoms by developing new condoms that significantly preserve or enhance pleasure and by developing better packaging or designs that are easier to properly use." ®
Bootnote
Pencil lead is of course made of graphite, cousin to graphene.