Doctor Who: From Edwardian grump to Malcolm Tucker and back again
The Doctor in 12 – or possibly 13 – stages
Never mind Colin Baker, cut to The Great Time War
Now we must enter the opinion-dividing, inconsistent years helmed by Producer John Nathan-Turner, when the shows was looking increasingly moribund in an altered TV landscape. You have to sympathise with the next three actors to play the role. Peter Davison's "pleasant, open-faced" (© Target novelisations) Fifth Doctor was a little too benign and easily flustered.
Despite a nice line in being unpleasant and egotistical – he memorably strangles companion Peri when experiencing post-regeneration delirium tremens - Colin Baker's Sixth Doctor was immediately hamstrung by his grisly panto costume; his successor Sylvester McCoy also had the makings of a good Doctor with his sinister, Machiavellian sides, but was thwarted by the show's cancellation in 1989 and some crap stories before it.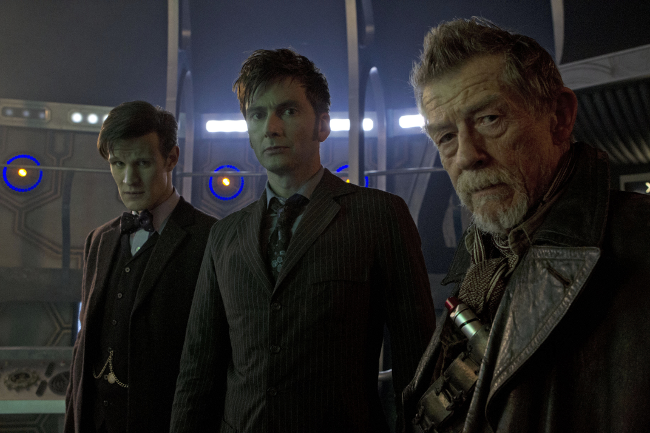 Doctors Smith and Tennant, heroes with an edge, but did Hurt go too far?
The sole outing of Paul McGann's Eighth Doctor would be 1996's TV movie, wherein he was a cheery swashbuckler who smooched his companion in Victorian gent gear. Incidentally, in his ongoing audio adventures, the Eighth Doctor now has a much cooler, leather-jacketed adventurer rig.
When the series returned in 2005, the Doctor was now the last Time Lord, having annihilated both the Daleks and the Time Lords in the Last Great Time War. Consequently Christopher Eccleston's Ninth Doctor was a post-traumatic figure, given to brooding seriousness and anger - calling the human race "stupid apes" - compensating with gags, dancing and, a certain tendency to step back and let Rose/her mum/Mickey search for the hero inside themselves and win the day.
Modern gents with space-time rents
More approachable was David Tennant's estuary English-spouting Tenth Doctor; an affable, somewhat self-satisfied timey-wimey gas bag he showed steel when he dooms the Family of Blood to everlasting suffering, but blubs when the Master dies. He was also the Doctor with the most love interest, with a fan fiction-esque sub-plot of a mortal double of the Doctor pairing off with companion Rose in Journey's End.
Yet balance was achieved more convincingly with Matt Smith's Eleventh Doctor – goofy, slightly child-like, but a credible hero capable of despair and ruthlessness, as when he leaves the old Amy to die in Amy's Choice, and heroism, as when he sacrifices himself to save he universe in The Big Bang.
It could be argued, then, that the essential character has been formalised since the 1970s. So how striking was the shock of fear delivered in just 14 words, "What I did, I did without choice in the name of peace and sanity", by John Hurt's unknown incarnation, seen wearing a hybrid outfit of the Eighth and Ninth Doctors at the conclusion of The Name of the Doctor?
He's hollowed and battered, having of course committed an act so appalling – the destruction of the Daleks and the Time Lords - he cannot go by the name of the Doctor.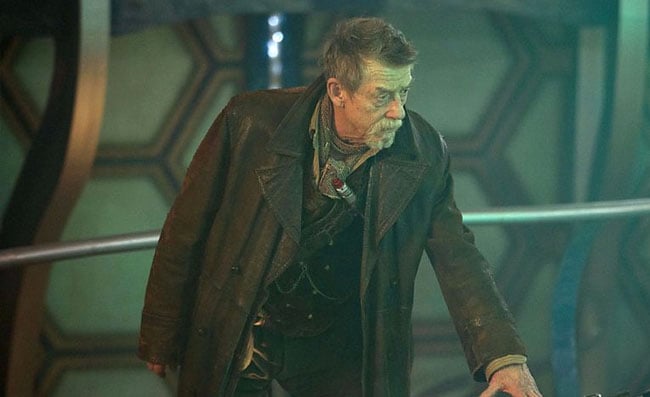 World of Hurt: this Doctor's clearly been around the block a few times
This cannot but have a bearing on how we perceive Peter Capaldi's Twelfth – or is it the Thirteenth? – Doctor. He's 55 and known for adult roles, and is not going to have lustrous hair, play football or flirt with the companions.
Younger viewers could find him 'old' and may even find him frightening; dry humour and many intense stares are to be expected, and a re-statement of the part's hyper-mysterious origins.
And what was one of longstanding Who fan - he gets a right drumming down in Keith Miller's engaging book The Official Doctor Who Fan Club Volume One - Capaldi's first acts as exiled Time Lord? To come out in front of a BBC studio audience and to grip his lapels like William Hartnell was wont to do.
We refer to the First Doctor's goodbye to Susan in The Dalek Invasion of Earth, again: "One day I shall come back."
Like some inevitable cyclic movement of time, it seems that he has. ®