Don't PANIC, but these SMARTWATCH-stuffed boxes are going NOWHERE
Unstylish, pricey, no apps - Xmas shoppers to stick with slabs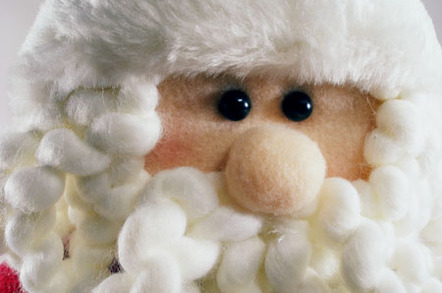 Santa's sack may be bulging this Chrimbo but it'll be slabs rather than smartwatches weighing the old boy down.
Analysts have given the wrist jewellery – described just a few months ago as "the most important new product category in consumer electronics since the iPad defined the market for tablets" – a thumbs-down. They claim sellers will struggle this year to shift pallet-loads of the things, with the premium price and a lack of apps reasons why shoppers will steer clear.
Annette Zimmerman, principal beancounter at Gartner, said big names from the tech world, including Samsung, had entered the market but said the gadgets have failed to capture the imagination of consumers.
"The products we've seen so far have been rather uninspiring in terms of design, available apps and features," she said.
On top of the chaebol, Sony is on its third-generation smartwatch, and Pebble has its iPhone and Android compatible device. ZTE is also getting into the game with market talk that Apple and Qualcomm will too
Looking into the crystal ball, Gartner predicted wearable devices will remain "companion devices" to mobes through to 2017, with fewer than one per cent of mobile users opting for a tab and smartwatch instead.
Low interest and awareness among consumer, "unstylish" bulky devices and the $200 to $300 price tag will mean that makers have see "lacklustre" sales this festivus.
"Users expect more than just more convenience from a new product category that claims to be innovative," she said. "The same price will fund basic tablets with a good feature set. For the coming holiday season users are more likely to pick the basic tablet option rather than a smart watch as the value proposition is clearer."
In contrast, rival beancounter IDC slightly lowered its 2013 slab forecast back in the summer based on the "prospect" of new wearable form factors gaining traction.
Retailers on the front line this Christmas are understandably reluctant to provide sales forecasts because they don't really know what will happen.
A spokesman at Dixons said it was seeing an "increase in enquiries and sales", but would not quantify either.
"Wearable technology will become the accessory most connected to mobility, and we expect to see a broad range of product, price points and technologies in this space," he added.
So the market clearly isn't able to provide a rich menu just yet, a point mirrored by Carl West, business group director at retail analysts GfK.
"Application, range and price will hold back Xmas sales. In that order. Wearable will take off in 2014. Application is key," he told us.
But application is limited when the devices need to be charged every day, the GfK man added.
"When you look at the share of wallet this Christmas, tablets, sim free smartphones, consoles, toys, and domestic appliances will get a priority," said West.
If the analysts read the tea leaves correctly, punters may be able to bag themselves a discounted smartwatch post-Chrimbo... if they fancy one, that is. ®
Sponsored: Detecting cyber attacks as a small to medium business